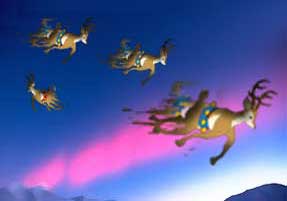 Welcome back to the Games! As the thrilling, yet tiring 10,000-mile Around-the-World Marathon continued, our Reindeer blazed across the sky for the fourth straight day and finally headed for the finish line at the North Pole.
The first three days saw Cupid, Vixen, Comet, Blitzen, Prancer, Dasher, Dancer and Donder make their way through the United States, South America, Europe, Asia, Australia and Africa in a spectacular display of super speed and flying magic.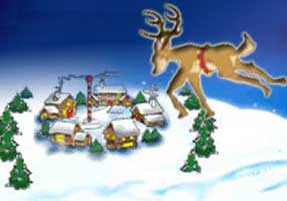 And today, as our race moved toward the finish line, all of the citizens and elves of the North Pole stopped their daily doings for a while and came out to see the big finish.
After blazing through northern Europe and up through Norway, our reindeer moved toward Svalbard -- a group of islands in the Arctic Ocean, about midway between Norway and the North Pole.
And then it was back over the Arctic Ocean and finally toward the North Pole. After four days, our reindeer were almost home.
"I can see them, I can see them," shouted Rudolph. "And the race is still close! Wow, what a performance by the Great Eight."
Indeed all eight were antler-to-antler heading down the home stretch, and it looked like it would be a close photo finish. The official elves had the cameras ready, but just at the very end, it was Blitzen who edged in front and took the gold medal, just ahead of Prancer, who took second place.
"What a spectacular race," Rudolph said. "I think all the reindeer will be ready for Christmas Eve – if they ever find Santa, that is."
In the mean time, the Reindeer Games will continue with our next event tomorrow, the first round of the Figure Skating competition. Check back to see what happens.