Hey kids! I'm Fly-About Franny back for another year at The North Pole Times. My job is to fly around in my mini-sled before Christmas every year checking to see how boys and girls around the world celebrate Christmas. Santa says it's a very important job or he would end up delivering the wrong toys to the wrong children.

For our first report this year, I'm not going too far away from the North Pole, I'm stopping in Vancouver British Colombia which is on the West Coast of Canada. Vancouver is one of Canada's largest cities and is right on the border of the United States. Vancouver is surrounded by mountains, rivers and lakes and lots of islands.
The Christmas season starts in early December with the annual Santa Claus Parade. The parade celebrates the spirit of giving during the Christmas season by raising money to donate to many worthy causes. Over 300,000 people watch the various floats, dancers and bands march 1.8 km through the city.
In Stanley Park you can ride the Christmas train where you sing carols while viewing seasonal displays of lights and presents! Families from Vancouver also celebrate their German heritage by going to a Christmas Market where they can get food, ornaments and gifts based on their German ancestors who settled in the area long ago.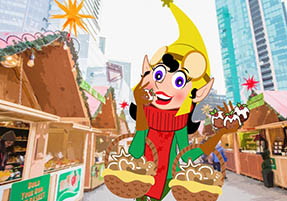 Canada has a very diverse population and a lot of families celebrate by being together on Christmas Eve, Christmas Day and Boxing Day, December 26th. Traditions include giving gifts, eating lots of goodies like turkey, vegetables and mashed potatoes. Desert is always delicious with fruit cake, puddings and tarts. YUM! Overall, the most enjoyable part of Christmas in Vancouver is being with family, celebrating your heritage and giving to others. That truly gives me a warm feeling!

Now that we've discovered how kids in Vancouver Canada celebrate Christmas; when Santa stops by on Christmas Eve, he'll be able to give the boys and girls great toys and gifts. I'm now going to go turbo and fly my sleigh south east across all of North America and the Atlantic to be in South Africa for next Friday's report. Remember come back every day to visit us at The North Pole Times for new stories!
Have a Merry first week of December!