After two days of a makeshift and unexciting Obstacle Course event, things were back to normal at the Reindeer Games. Manny Elf, head of Reindeer Games Event Construction, was back on the job and quickly went to work on the final day of the Obstacle Course.
"What's with these folding chairs? I think we can do better," said Manny. "Let's see if we can make the Obstacle Course a little more fun, and kind of like Christmas Eve."
And so Manny in just a few hours built a new course for the final round. He put the starting line near some trees and put a big sleigh near the line and a big house on the other side of the trees.
The reindeer will need to hitch up to the sleigh, fly over the trees, land on house, unload some gifts and then fly all the way around the North Pole before landing on the ice at the Hoojamawazit Skating and Ice Cream Palace.
"It may be icy on Christmas Eve, you know," said Manny. "I think that will be good practice for the reindeer."
Indeed it will. And so we are ready for the final round of the event, and the Palace is packed to see the end of the race.
Vixen, Prancer, Dancer and Cupid have made it to the final round and are ready to go.
"This should be exciting," said Rudolph, happy to be back in the booth and not setting up folding chairs.
Prancer is up first. And she's off! She hitches the sleigh and takes off over the trees.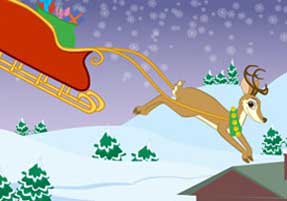 "My, Prancer looks great," said Rudolph. "A beautiful take-off."
And a nice landing on the house. She unloads the gifts and takes off again. After the trip around the North Pole, it's straight for the Palace.
"Oh my, this will be difficult," said Rudolph.
But Prancer brings the sleigh down perfectly on the ice. A very nice run of 47 seconds. Fantastic.
Next up is Dancer and she finishes in 49 seconds, just behind Prancer. And then Cupid is done in 46 seconds, just ahead of Prancer. She's in second place with just one reindeer to go.
Vixen is up. She is ready, and she's off! She's got the sleigh and is up and over the trees. A nice landing on the house and it's off and around the North Pole. And she's headed toward the rink. How will she do? She needs to beat 46 seconds for the gold.
"It's going to be close," said Rudolph.
Vixen's near the rink and now she's coming down toward the ice. My, it's a nice landing at the finish. And the time?
It's 45 seconds! Vixen has the gold. She is the seventh gold medal winner at the games.
Check back tomorrow for our final event, the 2222 Mile Marathon.