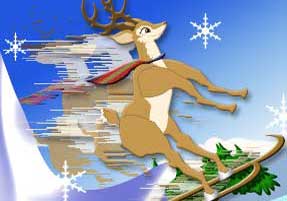 Welcome back to the Games! With just one event to go, the Reindeer Games are almost over.
So far we've had seven gold medal winners – Cupid in the High Jump, Vixen in the Long Jump, Comet in the Sprint Race, Blitzen in the Around-the-World Marathon, Prancer in the Figure Skating competition, Dasher in the Speed Skating event and Dancer in the Obstacle Course.
And now for our final event – the 2,222-Mile Marathon. The race should be a good warm-up, if you will, for the much longer and, in some parts of the world, much colder ride on the Big Night.
In our final event, the Great Eight will race for three days over a specially chosen route. Charting the course will be the Elfian Committee on Reindeer Games Marathon Course Selection, which has been busy for weeks in a very secret place.
"Well, 2222 miles really isn't that difficult for Santa's Great Eight Reindeer to fly," said Gerry Elf, head of the Committee on Marathon Course Selection. "They can cover that distance very, very quickly. So we wanted to pick some interesting places where they will stop and visit for a while."
While not revealing too many details, Gerry Elf said the race will head from the North Pole, toward Canada and over the Hudson Bay and Ontario and then over the Great Lakes, into the United States and finally then back toward the North Pole.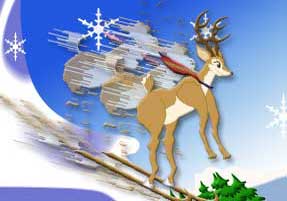 "On our first day, the reindeer will race to Thunder Bay," said Gerry Elf.
The city takes its name from the very large bay at the head of Lake Superior. The bay is very beautiful and forms a link between Canada and the United States.
And so we're ready for the race. All eight reindeer are at the starting line, and they're off!
"Well, the final event is underway," said Rudolph. "It has been a very exciting reindeer games this year, and this final event should be a good one."
All eight were heading out antler-to-antler over the North Pole and zoomed quickly towards Canada. Within minutes they were over the Hudson Bay into the province of Ontario.
And finally they arrived at Thunder Bay to a warm greeting from the many locals (at least those who believe in flying reindeer). The reindeer will rest up and take off tomorrow for the second leg of the Marathon.
Check back to see what happens.