And we're back at the Ice Palace for the third day of the Reindeer Games!
Our games feature our eight great reindeer competing for a gold medal in eight events here at the North Pole. The famous deer are competing in the games for fun and to get in great shape to lead Santa's sleigh around the world on Christmas Eve.
Today is the final round of the first event of the games, the Speed Skating competition! Our next seven events will be Ski Jumping, Figure Skating, the Luge, the High Jump, the Around-the-World Race, Snowboarding and Cross-County Skiing. Tune in and log on for all the events over the next few weeks! It will be fun.
As our fans know, our famous deer have special talents, they can fly and jump high and run fast. They can even skate! Yes, they can skate. And today we have the final round of the Speed Skating event here at the Ice Palace, on the specially made ice track just for the Reindeer. Santa's Elves have worked hard to get the track ready for today's big final, and it looks great.
Comet and Dasher are warming up and almost ready to go. And now down to the ice and our very famous host for the games Jim McSnowflake Elf.
"Hello to our great fans of the Reindeer Games, our fans from all over the world. We're almost ready for the final round of our first event. The winner will earn the first gold medal of this year's games. And Comet and Dasher are nearing the starting line, and we're almost ready for the start of the race. The fans at the Ice Palace are on their feet and getting ready for the big race."
And they're off!
Oh my it's a blazing start. Comet and Dasher are blazing around the track. The fans are going wild!
And it's lap 1, and it's too close too call. Antler to antler! And now it's into the second lap and into the back stretch and around the far turn. Now they're coming home!
It's Comet and Dasher and Dasher and Comet. Too close to call. Heading to the finish line. Dasher is in the lead by a hair. But Comet is right there.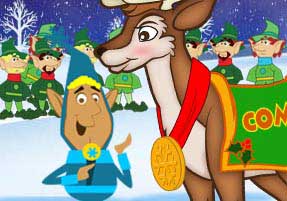 And across the line, it's Comet! Comet wins! The first gold medal of the games goes to Comet!
The fans at the Palace give Comet a big ovation. And a cheer for all eight deer, as well. It was a good first event, all the deer gave their best effort, and the fans enjoyed the show. The 2017 games are off to a very good start.
Tune in tomorrow for our second event, the ski jumping competition, when the Reindeer Games continue! ONLY on The North Pole Times!