We're back for the Reindeer Games! Yesterday was our first day of competition, the first race of the three-day Speed Skating event. All eight reindeer raced as fast as they could around the special ice track at the Ice Palace, and the top four are back today for the second round of the event.
Comet and Dasher and Prancer and Dancer were our top four yesterday and will race again today. The top two finishers in today's race will move to tomorrow's final round of the Speed Skating event. And the winner of tomorrow's race will take the first gold medal of this year's Games.
Now down to the Ice at the Ice Palace and our host, the most famous sports TV man ever, Jim McSnowflake Elf. Santa's very hardworking Elves have prepared the track, and it's smooth and clear and just beautiful. The reindeer are putting on their specially made ice skates, all made by Santa's hardworking elves. And it should be a good race.
"Hi to our great fans all over the world following the Reindeer Games. Our special reindeer are competing for eight gold medals in eight great events. And today we have the second round of the speed skating event. Our first heat was yesterday Comet and Dasher and Prancer and Dancer were the top four. They are at the starting line now!"
And they're off!
Oh the deer are racing around the track, and it's just a blur. And the fans here at the Ice palace are on their feet, cheering as loud as they can! That's one lap already, and it's Dancer in the lead, with Prancer right behind in second place. Then it's Comet and Dasher, just a nose behind. We're heading into the second and final lap now.
It's back and forth as they head around the backstretch, with the reindeer skates grinding into the ice and ice flying into the air. It's Dancer in the lead. Oh now it's Prancer. Wait, now Dasher takes the lead. Back and forth they go.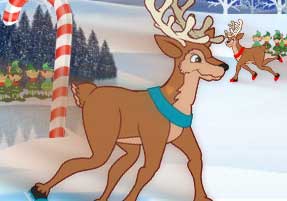 Coming down the stretch, it's too close to call. It's Comet and Dasher, Dasher and Comet, Prancer and Comet, Comet and Dancer. Too close too call.
And across the line it's very close, it's a blur, and it's Dasher in first place, and Comet is second! Finishing tied for third are Dancer and Prancer. What a race!
That means Dasher and Comet will race again tomorrow for the first gold medal of the Reindeer games. Tune in tomorrow when the first gold medal is awarded as we complete the final round of our first event at the Reindeer Games. ONLY on The North Pole Times!