Hey kids! I'm Fly-About Franny back for another year at The North Pole Times. My job is to fly around before Christmas every year checking to see how boys and girls around the world celebrate Christmas. Santa says it's a very important job or he would end up delivering the wrong toys to the wrong children.
My first stop this year is in the country island of Ireland. Ireland is part of Europe and everyone speaks English and some Gaelic. They really like their football (which some people call soccer) and shamrocks. I wanted to stop here first because it's my farthest stop north this year. Ireland is very beautiful during the Christmas season; they decorate their houses and go to very festive markets. The island does get some snow during the winter, but not a lot.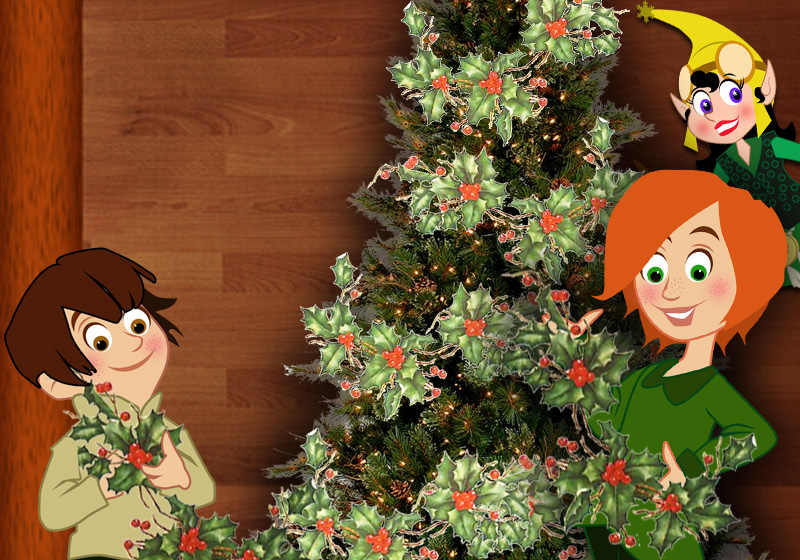 Today I'm stopping off at the house of Conor and Emma. These two siblings are very excited about Christmas Eve, Christmas Day and the day after called St. Stephen's Day. They have just put up a Christmas tree, which is a rather new tradition in Ireland. Historically, families used to decorate with ivy and holly to brighten their homes. Superstition holds that the more berries on the holly, the more luck you'll have next year.
Christmas food in Ireland include a round cake, full of dried fruit. One is made for each person in the family. These fruit cakes are covered with marzipan and decorated with sweet icing. Christmas dessert is also greatly anticipated. The Irish love their Christmas pudding. The smell wafts through the house and brings happy memories to all. Conor and Emma can't wait for all the festivities to begin this year.
Now we've discovered how children in Ireland celebrate Christmas, where all the good girls and boys will look forward to wonderful gifts and memories of Christmas. I'm heading south now to the nation of Colombia for next Friday's report to some place a bit warmer. Remember come back every day to visit us at The North Pole Times for new stories.