As the Reindeer Games continue, the third leg of the Around-the-World Marathon is underway and it's a fantastic one.
After covering all 50 states yesterday in the second leg of the marathon, the Great Eight reindeer must cover all the countries of South America and then fly across the South Pacific Ocean all the way to New Zealand and then Australia. Then it's on to Asia.
"My that's a grueling day," said Rudolph. "I hope the reindeer can make it."
And what would happen if they don't make it? If they get tired and can't fly?
"I don't know," said Manny Elf, head of Reindeer Games Event Planning. "I suppose it's my job to think of those things. The reindeer are very strong and very talented. We've never thought about their possibly failing to finish the race. I suppose we should have a backup plan, a rescue plan."
Well, with Santa in need of a rescue rocket, the North Pole already has its hands full with rescue attempts.
"That's for sure," said Manny. "I don't know what we would do if the reindeer got lost or got tired and needed help. I am going to sit down and think about that one. For now, let's hope everything goes okay."
So far, so good as the third leg of the race is underway. Yesterday, the second leg ended with a dash through California and now the reindeer are headed for Mexico.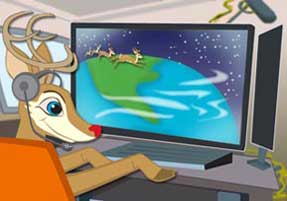 At this point, Vixen has taken a slight lead followed by Dancer, Prancer and Cupid just an antler behind. Then it's Donder, Blitzen, Dasher and Comet not all far off the pace.
The deer are heading for Central America and are up and over the Panama Canal. That puts them on track for Columbia, Brazil, Peru, Bolivia, Chile and Argentina and all the great countries of South America.
After racing over the Tierra del Fuego at the southern tip of South America, they are headed across the South Pacific Ocean.
"My that's fantastic," said Rudolph, watching from the Elfian Tracking Station at the North Pole. "The ocean is many thousands of miles wide. And the reindeer are scooting over it as though it were a small pond."
Indeed, Santa's reindeer look stronger than ever as they head over New Zealand and toward Australia and Asia.
At this point, it seems that Cupid has edged into the lead, followed by Blitzen, Dasher and Dancer. Close behind are Prancer, Comet, Donder and Vixen.
Check back tomorrow for the exciting final leg of the race and see who wins the fourth medal of the games.