Welcome to the Reindeer Games! Today is the first day of the games, and that means the first round of the high jump competition.
All eight reindeer are ready to put on a spectacular show for the crowd at Santa's Workshop Arena. And the crowd is very excited for the return of the games, despite a missing Santa.
As many of you know, the reindeer's talents are super fantastic. All eight -- Vixen, Cupid, Dasher, Donder, Dancer, Comet, Prancer and Blitzen, -- can run fast and jump high and move with the utmost grace and precision. And, yes, when the Big Night comes, they will be able to fly.
And those talents make the games very exciting but a little rough on Manny Elf, head of Reindeer Game construction.
"Yes, well, we have to build a bar for the high jump that goes more than 20 miles high!" said a tired Manny, "and that's not so easy, you know."
Manny, with the help of Santa's smartest elves worked together for many long days and nights to prepare, and they've done a magnificent job. The bar is up, and so we're ready for the first round.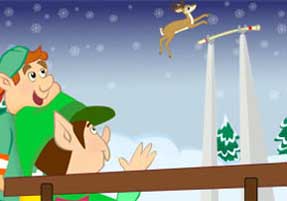 Blitzen is up first, and after a careful approach and a powerful leap, he is up and over the bar at 20 miles! Vixen follows with an equally fantastic leap. And then Dasher, Donder and Dancer are all over the bar, all at 20 miles. Finally, Comet, Prancer and Cupid jump and also make great leaps at 20 miles.
So, up goes the bar to 21 miles and another round of jumps for the reindeer. And all eight are successful again!
Finally at 22 miles Donder, Dancer, Comet and Prancer make their leaps. But Dasher, Cupid, Blitzen and Vixen just nick the bar and cannot make the jump. But they were very, very close and receive a nice hand from the elfian crowd at the arena.
So we're on to the second round tomorrow when Donder, Dancer, Comet and Prancer battle for the first gold medal of the games. Come back to see who wins!