And we're back at the Reindeer Games! Today is the final round of the first competition of the games the high jump.
Yesterday, Donder, Dancer, Comet and Prancer each made three successful jumps and have returned today for the second round. Each will start out today's competition by trying to jump 23 miles!
Yes, that 23 miles! As many of you know, the reindeer's talents are super fantastic. All eight -- Vixen, Cupid, Dasher, Donder, Dancer, Comet, Prancer and Blitzen, -- can run fast and jump high and move with the utmost grace and precision. And, yes, when the Big Night comes, they will be able to fly.
But today, it's the high jump and the bar is now set. Up first is Donder. He makes a careful approach and then soars up and over for a successful leap. Dancer is next. Again, a nice approach, and a graceful jump and he's beautifully over the bar. And then it's Comet and then Prancer. Both are up and over the bar, and the crowd at Santa's Workshop Arena is cheering wildly. This is what they came to see!
"Well, the competition today is fantastic," said Rudolph, with his red nose flashing brightly. Rudolph, still not allowed to play in any reindeer games, is on hand, as always, to provide expert commentary on the many talents of the reindeer.
"Let's see who will be able to win the first gold medal!" said Rudolph.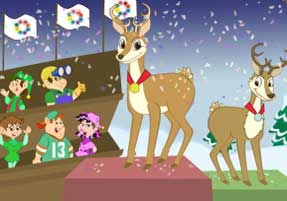 And so we continue. At 24 miles, Donder is up and over, followed by Prancer. Comet is over too, but Dancer is just short.
We go to 25 miles high! Donder and Prancer are good, but Comet just misses. Finally at 26 miles it's Donder and Prancer. This could determine who will win the first medal.
Prancer makes the approach, and gracefully and beautifully makes a perfect leap. Oh my, the pressure is on Donder. He approaches swiftly, digs in and skies toward the bar. Will he make it? Just at the top, and … oh, no, Donder just nicks the bar and cannot make it over.
That means, Prancer is the winner of the first gold medal of the games, and Donder is second. The crowd cheers the winner and is thrilled over our first event of the games. But there's more to come -- Check back tomorrow for our next event, the long jump!