The Reindeer Games continued on Day 3 with the start of the Long Jump competition, the second of eight exciting events.
The Long Jump will be good practice for Christmas Eve when the reindeer will lead Santa's sleigh all around the world, bringing joy to so many children. Vixen, Cupid, Dasher, Donder, Dancer, Comet, Prancer and Blitzen were excited for their first leap. All the reindeer can jump very far and very high, and all did so on the first day, dazzling the elves and many other onlookers at the North Pole.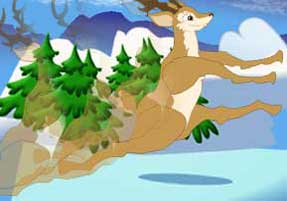 Dasher was first to go. After getting a running start, she jumped high and far, and her leap was measured at 24.3 miles.
Comet was next and she flew even farther, landing about 26.2 miles from the starting line. Vixen, Cupid, Donder, Dancer, Prancer and Blitzen all followed with superb jumps, as well, all over 25 miles.
With all the reindeer making very good jumps, the second round will continue tomorrow with all eight having a chance to win the gold medal.
After the Long Jump, the Reindeer Games will feature Sprint Race, the Around The World Marathon, Figure Skating, Speed Skating, Obstacle Course and the 2222 Mile Marathon.