Welcome back to this year's Reindeer Games! Yesterday, our Great Eight reindeer battled in the first round of the long jump competition, which was our second event of the games.
And all eight put on a great show, all going more than 24 miles on their first jump, another amazing show by the very, very talented and famous reindeer. But it was Cupid, Vixen, Donder and Prancer who went the farthest on the first day.
And so they're back for the final round to see who wins the gold medal.
"This should be an exciting final round," said Rudolph, with his red nose flashing brightly. "All the deer are showing tremendous skill and grace in this event. It's kind of hard to follow them for 24 miles, but the elfian cameramen should have some good video for us."
Yes, indeed, our reindeer do jump 24 miles or so, and so most of our fans at the North Pole are watching this event on the big TV screen in Santa's Workshop Arena.
Well first up is Donder. And he makes a good approach toward the jumping line and digs in, and, oh my, he's off. And it's a spectacular jump – officially 24.6 miles! That will be tough to beat.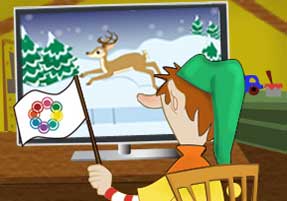 Next is Prancer. Another good approach, and a fine takeoff, and yes, another spectacular jump. The official elves measure it at 24.5 miles. That's good for second place right now.
And now it's Vixen. Vixen is our defending champion in this event – the winner of last year's gold medal for the long jump. He will be tough to beat for sure.
Vixen is off and in the air, and, my it's a long, long leap. Looks like the elves mark it at 26.1 miles. Fantastic! That's good for first place right now.
And now it's Cupid. This is our final deer. Cupid must go more than 26.1 miles or Vixen will be the winner again. Well, Cupid is up and heading for the takeoff line. And it's a fine takeoff and looking like a spectacular jump. Wow, in fact, it's so spectacular, it's hard to see how long it really is.
"This could be our winner," said Rudolph, "but let's see what the official elves say."
The elves are on the course and they've finally marked the spot. What is the distance?
"It's 26.2 miles!" said Rudolph. "That's fabulous. We have our gold medal winner for the long jump."
And so check back tomorrow when the Reindeer Games continue with the first round of the next event – the Sprint Race. And after that, we'll have the Around The World Marathon, Figure Skating, Speed Skating, Obstacle Course and the 2222 Mile Marathon.