Santa is still missing from the North Pole, but the Reindeer Games go on. The games continued yesterday with our fourth event, and perhaps the most important. Our famous eight deer have begun the Around-the-World Marathon, a difficult four-day race that should get them ready for the big trip on Christmas Eve.
If we can find Santa, that is.
"Well, we've got to hope he returns," said Rudolph. "And so the games go on."
And yesterday the Around-the-Marathon began with a trip across the Hudson Bay and then into Canada. As the day ended, the reindeer were heading toward the United States.
When Manny Elf, head of Reindeer Games Event Construction, set up the Marathon, he had a challenge. Since Santa will be delivering toys to children in all 50 states and around the world in just one night, he wanted to have the Marathon in all 50 states too. But that would make for a long, difficult race and maybe tire out our famous reindeer.
"I thought long and hard," said Manny. "After the United States, the race will continue to South America and then to Asia, Australia, Africa and Europe. Wow, that's a lot of places to go. But that's what Santa's reindeer will need to do on Christmas Eve, and so I decided to make the Around-the-World Marathon very difficult, as well. Practice makes perfect, you know."
And so our reindeer will be heading through all 50 states for this second leg.
"My, my, that will be tough," said Rudolph. "But I think the difficulty will only make them stronger."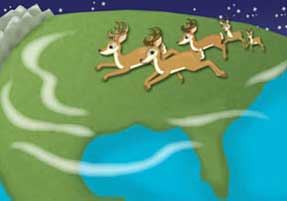 And that seems to be the case as we pick up the race in the Northeast United States. Vixen, Cupid, Dasher, Donder, Dancer, Comet, Prancer and Blitzen have headed into the U.S. and are moving southward. It's over Maine and Massachusetts and New York state and all the great states of the Northeast.
And then it's through the South and then the Midwest. And then it's over all the states in the Great Plains and the Rocky Mountains. And finally it's up and down the West Coast from Washington State through California.
"And after all that, the race is very, very close," said Rudolph. "Every dear still has a chance to win. I can't wait until tomorrow!"
And so check back tomorrow to see our third leg of the Around-the-World Marathon, as the Reindeer Games continue.