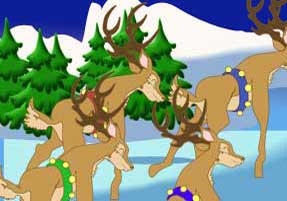 We're back at the Reindeer Games Sprint Race competition. Day two will feature the top four finishers from yesterday - Dasher, Comet, Blizten and Prancer.
The five-mile track is designed to give the Great Eight a showcase for their blazing speed. This semi-final race will allow the two fastest to move to the finals tomorrow.
Dasher, Prancer, Comet, and Blizten trot up to the starting gate and get ready to begin. The sold-out crowd cheers as they gather around the finish line. "There no sense in watching from anywhere else" says Twinkle Elf. "They're so fast you can hardly see them go by."
"This is a great day" Rudolph states. "I just love the speed of this special team".
BOOM! The starting gun goes off. "It's over" yells Rudolph. Comet blazes down the course in just 3.3 seconds followed by Blitzen at 3.4 seconds.
Both Comet and Blitzen move to the final round tomorrow.
Who will this year's fastest reindeer be? Can either one of them break the 3-second mark?
Be sure to come back tomorrow to find out – right here – ONLY on the North Pole Times.