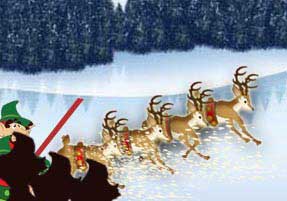 Today, we continue with the final round of our third event, the Sprint Race at the Reindeer Games.
In yesterday's first round, Vixen, Comet, Prancer and Dasher finished ahead of the rest, and they will race today for the third gold medal of the Reindeer Games. So far, we've had two gold medal winners – Donder in the High Jump and Comet in the Long Jump.
And now, let's see who will win the third. Vixen, Comet, Prancer and Dasher are at the starting line and ready to go!
"This should be an exciting race," says Rudolph, on hand for expert commentary but still doesn't play in any Reindeer Games. The crowd at Santa's Workshop Arena is on its feet as the race is about to begin. The flag is up and they're off!
"It's a super start," says Rudolph. "All the deer are flying to the finish line!" Yes, the reindeer move very fast, and just like that, they are approaching the finish. It looks like Comet has a slight lead over Dasher, while Vixen and Prancer are just an antler behind. It's going to be close! Coming up to the finish, it's deer-nose to deer-nose. And across the line, it's very difficult to see who wins, but it looks like Vixen is the winner and Comet is second. Yes, Vixen is the third gold medal winner of the games!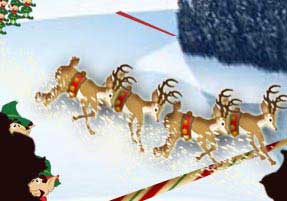 "Oh my, that's a fine race by Vixen," says Rudolph. "She is a worthy winner of the Sprint Race. My, we have some impressive winners these days at the North Pole! Not only Teema Elf in the talent contest, but Vixen in the Sprint Race too. Vixen can move fast, just like Teema can sing well." Those are two very different talents, but both are worth cheering. "Yes, that's true!" says Rudolph. "I believe everyone has some kind of special talent, whether it's singing well, running fast or making tasty sugar cookies. Everyone should be proud of what they can do and work hard to do it better. And you know, maybe each of us has a talent deep inside that we don't even know about. Maybe we are good at something, and we don't even know it! I think everyone should try different things to see what they may be good at."
Fine words from Rudolph. And on that note, Vixen has moved atop the victory stand to accept her gold medal at the Arena. The crowd is so excited, it starts singing! What are they singing? "I like you more than strawberries and mustard! I like that 'cuz my brain is busted!" sings the large crowd at the Games. "I'm not sure what that's all about," says Rudolph. "That sure is a funny song! Let me find out what's going one and get back to you."
Check back tomorrow to find out and also to see the first round of our next event, the Around-the-World Marathon!