The Reindeer Games continue today with the final round of the Speed Skating event. And the Hoojamawazit Skating and Ice Cream Palace is packed, as always, for this exciting event.
In fact, the Palace is jam-packed today. Super jam-packed! The Speed Skating final has become a very tough ticket, as we say. It seems that every one at the North Pole wants to go.
And why's that? Well, the elves are on strike to protest their diet of fruits and veggies, and so they have plenty of time on their hands. They figured they would head out to see the race.
And now their replacements brought in by Mrs. Claus, the Abominable Snow Men, the Yeti, have decided to take in the skating final before they set to work making toys. No rush in heading to work when there's fun to be had.
And the snow men are very, very big, and they take up a lot of seats at the Palace. And so it's very, very crowded!
But, as always, the games go on. We are ready for the final round.
Yesterday's first round saw Comet, Blitzen, Cupid and Dancer finish in the first four spots to advance. Once again, the Great Eight Reindeer will race around the icy oval at blazing speeds. And we're almost ready. Rudolph will start the race. Comet, Blitzen, Cupid and Dancer are lined up and ready to go.
And they're off!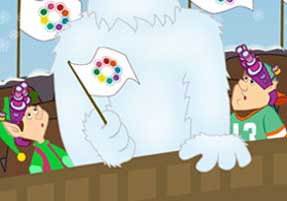 Oh my, it's just a blur around the first turn and into the backstretch. The Yeti look confused. They've never seen reindeer so fast.
On the backstretch, it's Cupid by half an antler over Dancer. Comet and Blitzen are a few inches back.
Now it's in the final turn and they reindeer are heading for home.
The Yeti are wondering what all the excitement is about. They don't see anything at all! The reindeer are just too fast for them!
And into the final stretch, all four deer are nose to nose. It's very, very close. Coming to the finish line, and whoosh! All four cross the line at just about the same time.
Rudolph is checking the replay machine. And the winner is?
It's Comet for the gold and Blitzen is second. Comet is the sixth gold medal winner of the games!
Check back tomorrow for our seventh event, the very fun Obstacle Course!