Greetings!
(or "Kveðja!" as they say in Iceland).
It's Tuesday. I'm Toomer. Which means it's time to trumpet another totally tremendous Terrific Task Tuesday!
Christmas is just under a week away. Speaking of "w-e-e-k", I've been thinking lately about the word "w-e-A-k"… I may be small, but I'm not to be messed with. I'm a bit like a single stale snack left out for Santa on Christmas Eve - one tough cookie!
We elves are a secretive bunch and people often have wrong ideas about us. You could call them 'myths' because they're not true at all. One of my favorite things to do with myths is smash them! (told you I was a tough cookie!).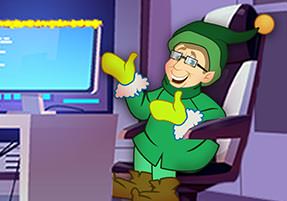 One such myth is that some people think being nice and doing terrific tasks is only for those who are weak or feeble. These people seem too tough to take the trouble - too cold to care. Well, when I heard that, I knew it was a myth that needed bashing… it's not true at all!
What about the person who has just been shouted at with nasty words, but responds with kindness, even though it's really difficult to keep calm and hold their temper? Weak or strong?

What about the child who finds the inner strength to make someone smile, even when they're feeling sad inside? Weak or strong?

What about the player who shows respect on the sports field, even when it's tough out there? Weak or strong?
You can guess what my answers are! Time to smash that myth! I'll never stop being amazed that strong children like you have the power to change the world, one random act of kindness at a time.
CHANGE THE WORLD!! Does that make you weak or strong?
A good example is Max from Canada who shovels his neighbor's path when it snows so they don't slip. Way to go, Max! You are definitely one tough cookie. Be more like Max, folks!
Right, time to pass on my spreadsheet to the Big Guy for another year.
Have a lovely Christmas and remember you're a stale Santa snack!
Until next year,
Toomer