Welcome back to the Reindeer Games! Yesterday, the Figure Skating competition began, even though our Official Elves have gone on strike. Without the elves to judge the skating, many thought the event would be cancelled.
But with the reindeer in need of the exercise to be ready for Christmas Eve, Rudolph stepped in to judge, and so the games go on.
Meanwhile, Santa continues to fly about space with Waldo, while Gizmo puts together the rescue rocket. It's very busy at the North Pole these days, and the Reindeer Games are no exception.
Today the Great Eight reindeer moved to the second round of the Figure Skating competition, the "short program."
Each reindeer must make four moves in one minute's time, as Rudolph judges the skill and keeps the tally.
The Hoojamawazit Skating and Ice Cream Palace is packed, despite the elfian strike.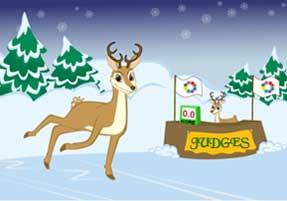 First up is Vixen. What will Vixen do? The crowd awaits, hoping for some exciting moves. And, for sure, Vixen completes a double backflip, a whirly bird, a lightning fast spin and then a perfectly executed Button-maker maneuver. Wow, that was fantastic!
Next up is Prancer. Showing grace and magnificent skills, Prancer does a Gene Kelly, a whirling dervish, a beagle eagle and then a nice sinking spiral. Incredible! The reindeer's skating skills remain spectacular.
Cupid, Donder, Blitzen, Dasher, Dancer and Comet take to the ice, as well, and also dazzle the crowd, as Rudolph struggles to write down the scores. After a few wayward pencil strokes, Rudolph's tally is ready.
And remarkably, after two full days of skating, all eight reindeer are tied for first place! That's amazing. And that means the final round tomorrow will decide the fifth gold medal winner of the games. Check back to see who it will be.