Is it a bird? Is it a plane?
No!
It's your traveling Tuesday buddy, Toomer Elf back again, fresh from another week's worth of whizzing world wide looking for decent deeds, amazing actions and terrific tasks!
You know what? I'm in such a Christmassy mood now! (which is good because it's just around the corner!) This has been the best job ever! Getting to take a trip around the world to record all the helpful deeds you lot have been doing has filled me with seasonal cheer.
In the last weeks I've seen kids tidying their rooms, fixing breakfast for grown-ups, making secret Christmas presents to give their families, raking the leaves in their back yards, picking up litter… one boy even washed the tractor on his uncle's farm! Children have been doing terrific tasks all over the world… from Austria to Zimbabwe, from Andorra to Zambia, from Argentina to… er… um… (well, can you think of another country beginning with Z?!!) and the vibes from Santa are good! He's mightily impressed with your positive attitudes. Keep up the good work!
This week I want to tell you about a little boy who made a big impression on me. His name is Zac and he lives in the United States. When I arrived, he was rushing out to football practice, so I thought I'd missed my chance to catch him doing a good deed. He was in such a rush, surely he'd got no time to help anyone else?
How wrong I was!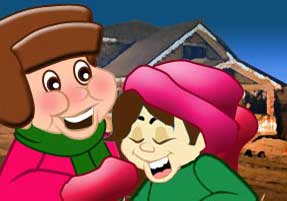 As he ran down the street to the park I followed him from a distance, dodging behind bushes whenever he looked like he might turn around. Got to keep this mission secret!
Then suddenly he stopped and bent down.
What was he doing? He was already late for football practice…
I crept closer to see what was going on. When I saw why he'd stopped, a big elf smile spread across my face. A little girl sat in floods of tears with her bicycle sprawled across the pathway. She had clearly just fallen off and Zac had stopped to help.
Aha! A terrific task for me to report to Santa! Good old Zac!
But do you know what the best bit of the whole story is?
He missed his football practice.
I know what you're thinking… What kind of elf thinks that it's a good thing when someone misses something they love doing? Well, think about it for a minute… Zac thought that making sure the little girl was ok was more important than something so special to him. That man's got good priorities… What a legend - he got a special mention in my Terrific Task report I can tell you!
Hey, I forgot to tell you... there's only one more kid to visit. I know which country I'm going to and I know who the child is… It's someone who's been reading Terrific Task Tuesdays and someone I just know has got so many helpful deeds inside of them bursting to get out!
I'm not going to give any more hints, but let's just say the next time you're being caring, generous or helpful, someone could be watching you… And let's just say he could be three foot two with a report to finish… He will have saved the best until last!
Happy Christmas to you and yours!
Toomer