Welcome back sports fans! We're in the midst of our final event – the 2,222-Mile Marathon.
Our Great Eight headed out of the North Pole yesterday for the first leg of the event, landing in Thunder Bay, Ontario, to rest up for the second leg.
In this final event, the Great Eight will race for three days over a specially chosen course charted by the Elfian Committee on Reindeer Games Marathon Course Selection.
"We wanted to find some interesting places for the reindeer to visit, while they race for the final gold medal," said Committee Chair Gerry Elf. "And give the reindeer some time to delight their many fans."
Today our reindeer will head over the Great Lakes, into the United States and fly over many states including Michigan, Ohio, Pennsylvania and New York before heading over Vermont, New Hampshire and Maine.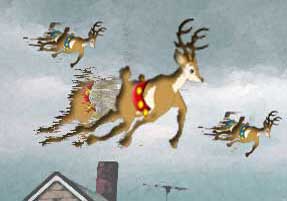 Maine is well known for its ocean scenery, with almost 3,500 miles of shoreline. The reindeer will stop for the second day at West Quoddy Head, which is the easternmost piece of land in the United States.
Along the famous coast of Maine are lighthouses, beaches, fishing villages, and thousands of offshore islands. The reindeer will see some beautiful scenery while they are there.
And so we're ready for the second leg. Taking off from Thunder Bay, the reindeer head over the Great Lakes and into the United States.
They tackle the course swiftly and easily and head quickly over the United States. Many surprised onlookers along the way are not sure what they are seeing.
"Ha, a few folks now have seen Santa's reindeer for the first time," said Rudolph. "Hopefully they are believers now!"
And heading into West Quoddy Head, the race is still too close to call. All the reindeer are very, very close. It should be an exciting final day tomorrow. Check back to see who will the final gold medal.