Hello boys and girls, Christmas is coming up fast. Are you excited? I know I am. But before Christmas gets here, I need to let Santa Claus know how another part of the world celebrates Christmas.
This week I'm in a city in western Ireland named Galway. Galway is a great place to celebrate Christmas, it's a small city where they start decorating and counting down the days to Christmas the first week of November!
Galway is part of the Christmas Market! The Market sells all sorts of gifts, crafts, decorations and any Christmas food that you could think of. I think I'll stick with some Irish food though…maybe I'll try some soda bread, because I don't think I'm old enough to like the rum or brandy pudding.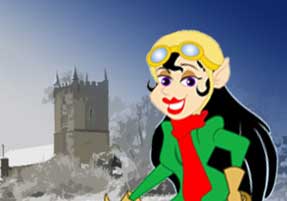 If you don't want to shop or eat at the Market, you can head over to Galway Bay for ice skating or visit a pub for the Singers and Songwriters competition. My Irish friends tell me people in Galway really like to sing. I hope they know their Christmas Carols! My friends told me that if you're brave enough, you can wake up early Christmas Day and swim in the cold Atlantic Ocean. I think I would rather stay home by the fireplace and open up toys though.
Irish boys and girls love decorations like candles, trees and Christmas crackers. They also look forward to the traditional dinner feast and spending time with relatives who have left Ireland for other parts of the world.
Well kids, it's time for me to leave Ireland and head back to the North Pole. I think this year I get to help Santa load his sleigh before he leaves on Christmas Eve!
I want to thank you for visiting with me in other parts of the world. It really is important to know how so many different places celebrate Christmas.
I hope to see you again next year as I visit four new places.
Have a Merry Christmas, and remember to be good all year long!