Hi kids, Santa gave me one last assignment for Franny Fridays before Christmas arrives! Today I'm heading all the way to the southern part of the globe to visit the country of Australia. Australia is the only nation that takes up an entire continent and is surrounded on all sides by oceans! It's made up of some great cities, some beautiful beaches, majestic mountains and wonderful coastline.
In the Southern Hemisphere it is summer on December 25th, making Australian Christmas warm and sunny. Kids are on their summer break from the middle of December to early February. There's no snow and the days are long on Christmas. Many people spend the day at the beach or camping.
Australians love to put up door wreaths and other decorations for their celebrations. They decorate their houses and gardens with a wide style of lights and with Christmas Trees. One of the most popular decorations is the Christmas Bush. This is a tree with small, green leaves and cream-colored flowers. During the warm days in December it turns a deep shiny red color. Poinsettia plants, ferns and palm leaves are other common plants used to decorate their homes.
Many towns and cities hold Carols by Candlelight services, with bands, choirs and kids helping to perform a large variety of Christmas Carols. These evening concerts are usually done in a park and the audience holds candles during the performance. Because it is a warm and sunny season, words in the carols are changed from winter wonderlands into summer sunshine. Australians also have a tradition of creating their own, unique carols.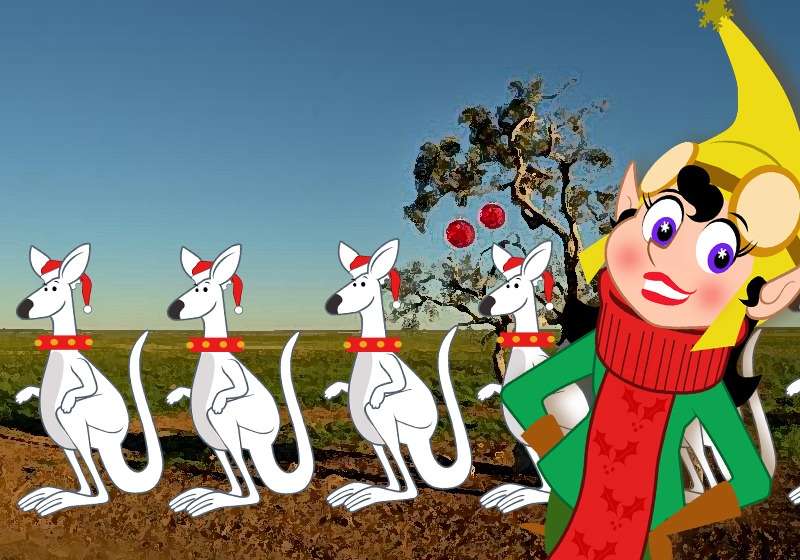 It's whispered that when Santa comes to deliver toys to Australia, he lets his reindeers rest and he uses six white kangaroos. He also changes from his fluffy hat and gloves to shorts and a brightly colored t-shirt. Children leave out a piece of cake for Santa to snack on as he's arranging presents around the Christmas tree. Presents are then exchanged and opened on Christmas Day. Feasting on a mid-day dinner, Australians eat turkey, ham and pork. The meal also includes a flaming Christmas plum pudding and mince pies for dessert. Yum! Other families hold a barbeque in their backyard and invite family and neighbors over to celebrate.
That's all for Franny Fridays this season girls and boys. I hope you had as much fun as I did visiting four wonderful countries all over the world. It was great to see all the differences and all the similarities that people share when celebrating Christmas. I hope you keep visiting the North Pole Times until Christmas comes to your town! Merry Christmas everyone! See you next season!