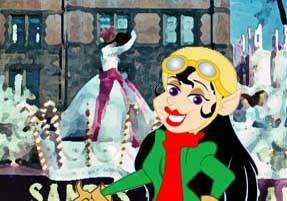 Hey kids! I'm Fly-About Franny back for another year at The North Pole Times. My job is to fly around in my mini-sled before Christmas every year checking to see how boys and girls around the world celebrate Christmas. Santa says it's a very important job or he would end up delivering the wrong toys to the wrong children.
For our first report this year, I'm not going too far away from the North Pole, I'm stopping in Toronto Canada. Toronto is Canada 's largest city and it's right on the shores of Lake Ontario , which is one of the Great Lakes . Canada is a very large country and has a lot of different people all across it. Some people live in the very cold north and are called Inuits. They celebrate with a big winter festival and love to dance and give gifts for Christmas. Some people speak French and celebrate the way their ancestors in France do, with delicious French food and decorations like the Crèche. Mainly in Toronto though the boys and girls speak English and celebrate like other North American boys and girls. Many families get Christmas trees to decorate and put presents around. Since Toronto is a big city, many people will go see plays and musicals about Christmas in December. My favorite has always been to see kids singing in a choir.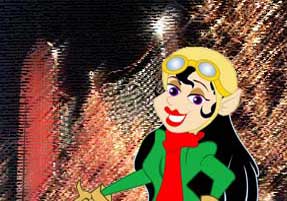 The one thing Canadian children do differently is called the Christmas cracker. No, these aren't food that you put cheese on and eat, these are a type of present that you give to people in your life that you appreciate. A cracker is a cardboard tube that you can put a small gift or a note saying how much you care about someone into. The tubes are wrapped in colorful paper and then two people pull apart the cardboard and hear a big POP! as the toys or notes fall out. Many people give crackers as a way to remember a fun party they enjoyed and as a way to say Thank You!
Now that we've discovered how kids in Canada celebrate Christmas, when Santa stops by on Christmas Eve, he'll be able to give the boys and girls great toys and gifts. I'm now going to turn my sleigh east and head across the Atlantic to Wales , England for next Friday's report. Remember come back every day to visit us at The North Pole Times for new stories.