Hi There! There are less than two weeks until the big night. I'm so excited for Christmas this year. I have a few wishes on my own elf list that I'm hoping Santa will bring. I know I've been bad and good and that Santa will be the one who decides what makes it under the tree for me.
But, this week, I wanted to talk about what you "get" for Christmas. Year after year, we elves see long lists from some kids asking for toy after toy, video game upon video game, candy, gum, money. You name it, we've seen it. Then, there are children who only ask for one or two things. I know for a fact that we grant a lot of wishes and boys and girls find what they asked for under the tree, and I also know that many children do not "get" what they asked for.
This week, I want you to think about your wish lists for this year and ask, "Do I really 'want' this?" "Want"ing something means that it would be awesome and fun to get this, like a game for your Gameboy or a puzzle to add to your collection. You get the idea.
Now I want you to think about your wish lists this year and ask, "Do I really 'need' this?" "Need"ing something means you are missing something basic like: a house to live in that has heat on a cold night, food in your stomach that's good for you and clothes on your back, boots on your feet and gloves or mittens on your hands when it's cold outside. I sure hope you have what you need to live at all times.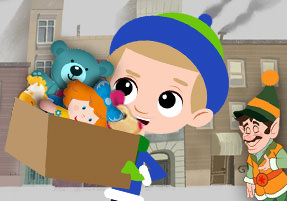 What on your list do you "need"? What on your list do you "want"? While I realize you may not get everything you put on your list, I guess the point I'm trying to make is that you should try to be happy with what you do find from Santa. He has countless homes to visit on Christmas Eve. Just think of it this way - whatever you have for Christmas is more than you had the day before and you're richer for it. Remember to use your manners and say "thank you" to grownups, friends, brothers or sisters who give your presents.
Have fun! Play with those new toys and games. Wear those new clothes. Read those new books.
I have a terrific idea on how you can "give" to others from "stuff" you have right now. You'll have to log in next week to find out what that is.
See you next wEDnesday.
EDitorially yours,
Eddie Elf