Hi boys and girls! Whew! After being blown off track for a couple of days I'm finally landing where Santa wanted me to go last week. Today I'm landing my sleigh in the Pacific Ocean and learning all about Christmas in the Philippine Islands. If you have a globe or a map at home, go now and find the Philippine Islands on them, they're south east of China and north of Australia.
You'll notice the Philippines are a large group of islands and are south of the equator. That means it's summer here during Christmas, just like on our visit to Africa. Though there are more than 7,000 islands here I'm landing in Manila, the capital city and biggest city here. A lot of the Filipino boys and girls have a Spanish or American background, so we see a lot of the same festivities as you would in Spain or Mexico. Christmas is celebrated as a time for family to visit, for friends to get together , for giving and sharing gifts, and especially a great time for fiestas or parties! Christmas is looked forward to all year long, and the warm weather during December makes for some lovely evenings outside with flowers and leafy trees, they never have snow or pine trees to decorate. It's a tradition for children to visit with their grandparents and godparents on Christmas Day. The children give respect to their elders at each house, and get a special gift or a blessing to take home. Filipinos love to sing carols. There are hundreds of languages spoken in the islands, but most people understand Filipino, known as Tagalog, or English. Here come some kids down the street singing carols, let's try to sing along.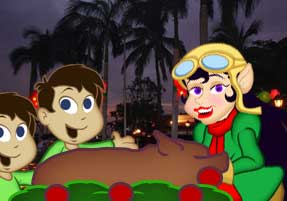 Maligayang Pasko (Tagalog) Sa maybahay, ang aming bati: "Merry Christmas na maluwalhati!" Ang pag-ibig, 'pag siya'y naghari Araw-araw ay magiging Pasko lagi!! Chorus: Ang sanhi po, ng pagparito, Ay hihingi po ng aginaldo. Kung sakaling, kami'y perwisyo; Pasensya na kayo't kami'y namamasko!!
Merry Christmas (English) The household we greet: "A Glorious Merry Christmas!" When Love reigns, Every day will be Christmas! Chorus: The reason we are here is to ask for gifts. If it so happens we are a bother, Be patient since we're soliciting for Christmas!
Christmas Eve starts the big celebrations and it's when families start to get together. During the evening the last mass is attended, than people prepare for Noche Buena, a large feast full of the best loved foods. Filipinos don't sleep and the fiesta continues into Christmas Day. The party is an open house, where friends, family and neighbors drop by. Food is plentiful and is always kept hot. The streets are an open house too, very bright and decorative. Children run around the neighborhood playing with their friends and sharing food.
That's all I have time for today. But I'll be here all week celebrating with my Filipino friends. I love to be where people love Christmas. Be good at home and remember, Santa is always watching!
MERRY CHRISTMAS!