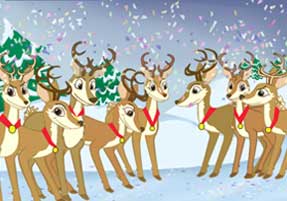 Greetings sports fans! It's an exciting time of year here at the North Pole as we get set for the 2018 Reindeer Games.
Beginning Thursday, November 29th, I, Timbo Elf, will keep you updated EVERYDAY on how Santa's prized reindeer prepare for the Big Night.
I will be covering the High Jump, Long Jump, and Sprint Race, along with the Around the World Marathon. But that's not all. I'll have reports on Figure Skating, Speed Skating, the Obstacle Course and the 2222 Mile Marathon!
Dasher, Dancer, Prancer and Vixen; Comet, Cupid. Donder and Blitzen will compete in all of the events and we'll tell you who comes out on top.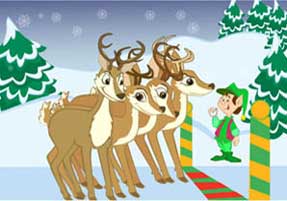 As you know, the Reindeer Games get the "Great 8" in shape for their trip on Christmas Eve when they pull Santa's sleigh to the homes of all the good boys and girls. Santa can't deliver the toys without them so it's important that they're in tip-top shape.
Who's the fastest? Who can jump the highest? We'll tell you as it happens - ONLY on the North Pole Times – Santa's OFFICIAL News Source.