Welcome back! The Reindeer Games have been fun and exciting so far, and today we're in the middle of our fourth event, the Luge. Dasher, Comet, Prancer and Donder will race today in the second round of the Luge, and the top 2 will race tomorrow for the fourth gold medal of the games.
So far, three gold medals have been awarded at the Reindeer Games. Comet won the Speed Skating event, Blitzen won the Ski Jumping and Dancer captured the Figure Skating gold.
And after the Luge, four fun events will remain: the High Jump, the Around-the-World race, the Snowboarding competition and Cross-Country Skiing.
Today we have more of the Luge. The Luge is a difficult and challenging event for the reindeer, who must race down a very icy and slick track in a very small sled and race as fast as they can. It takes many practice hours and many skills that the reindeer have working on for a long time. Let's head down to our expert for more on the Luge, our very famous host, Jim McSnowflake Elf.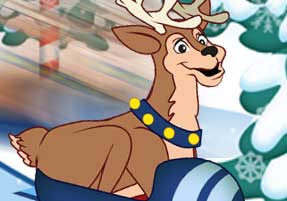 "Thanks guys! The Luge is a difficult event for the deer. They must do many things right to race very fast. The deer must be strong to withstand the tight turns at high speeds. They must go very fast and stay under control at all times. It is not easy, but the deer can do it." Ok, let's head out to the starting gate for the races! First up is Donder. Donder's at the starting gate and Donder is off! Donder is through the curves and down the straight-away. Donder is moving well. It's a big crowd today at the Luge track, and the fans are cheering wildly! Donder is across the line in 24.5 seconds! A good time for Donder.
Next up is Prancer. Prancer's off and moving well. Through the curves and down the straight-away goes Prancer. Prancer's past the finish line in just 24.4 seconds. A very good time, and Prancer is in first place, by just a hair! Two more deer to go!
Comet is up next, and Comet is off! Comet's moving at blazing speed, and looks very good. The crowd is loving the race! Comet is in at 24.3 seconds, and just ahead of Prancer. So right now, it's Comet and Prancer in tomorrow's final. But one more deer to go!
Finally, it's Dasher. Dasher is off! Dasher heads down the track and toward the finish. It's going to be close. Who will be in the final race tomorrow? And Dasher finishes in 24.2 seconds, just ahead of Comet for first place! Dasher and Comet are the top 2, and will race for the Luge gold medal tomorrow!
Check back to see who wins the fourth gold medal of this year's Reindeer Games!