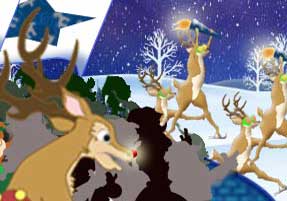 Welcome back to the Reindeer Games! The games are sadly coming to an end for this year, and today each of Santa's Great Eight receive a gold medal after a superb performance in the games.
The Big Eight Reindeer are leading a parade around the North Pole to the Ice Palace where they are being honored for their efforts.
A big crowd has gathered to cheer the deer one last time before they make final preparations for the Big Night. They are on the big stage now, getting their gold medals.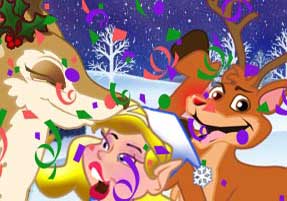 Our medal winners are Dancer in the High Jump, Donder in the Long Jump, Comet in the Sprint Race, Vixen for the Around-the-World Marathon, Prancer in the Figure Skating competition, Blitzen in the Speed Skating event, Dasher on the Obstacle Course and Cupid in the Snowboarding competition.
The games were fun for all and proved to be very exciting.
"I enjoyed all the events and am proud of my fellow deer," said Rudolph. "I can't wait until next year."
Thanks so much for following the games and have a Merry Christmas and a very good New Year!