Hi kids,
It's Fly-About Franny back with you with another report for Franny Friday. I'm reporting back to Mrs. Claus this week since Santa is extremely busy this season. Last week I was in warm and sunny Colombia, today I'm doing a special stop in another country in central Europe named Poland. It's nice and cold and snowy here. An elf like myself enjoys the sun, but Poland feels a bit more like home during the winter months. Instead of going to a big city to visit friends and learn about Christmas, today I'm going to a small village in the Tatra Mountains. Let's head into Zakopane to see how they celebrate my favorite day!
In Poland they're already a few weeks into celebrating Advent. It's a time when people remember the true meaning of Christmas and enjoy the peacefulness of the season by giving up their favorite foods or things to do. Many children count down the days to Christmas using an Advent calendar.
Christmas Eve Supper is a big event in Poland and everyone gets dressed up for it. A fancy meal is served with twelve dishes, and it doesn't begin until the first star of the night is seen. An extra place is set at the table for any wandering visitors that might drop by unexpectedly.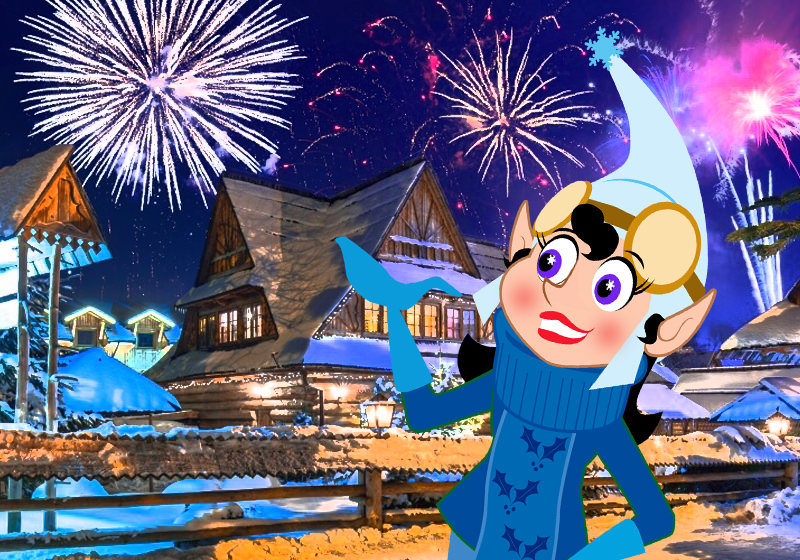 After Christmas Eve Supper, groups of carolers get together to go house to house to sing and reenact the nativity play with baby Jesus. They also retell the story of the Christmas Spider. Legend has it that a poor family who couldn't afford decorations for their tree brought a tree inside anyways. When the children in this family went to sleep a spider covered the tree in cobwebs. Then Santa Claus changed the spider-webs into silver and gold tinsel, making the tree sparkle in the morning sunshine. People in Poland believe it is good luck to find a spider on their Christmas Tree!
Santa is known by many names in Poland, depending on where you live. He is called Grandfather Frost, Starman, Angel and many more joyous names. He has already dropped off the presents for the kids so that they can open them after Christmas Eve Supper. Adults tease the eager kids by eating seconds and having extra large plates of dessert. They also keep singing carols after dinner to keep the fun going!
Then Christmas Day and the day after are called the First and Second Day of Christmas. They're usually spent relaxing with relatives. Sometimes family comes from far away to stay and continue the celebrations.
Christmas in Poland is a fun and beautiful time across the whole country. If you have any Polish friends or family you should ask them about it. People love to share their stories. I have a long flight ahead of me now. I'm heading to the land down under to see how exciting Christmas celebrations in Australia can be! Join me next Friday!