Today we have the final round of the High Jump event here at the Games.
Let's head out to the High Jump area, where our two finalists, Vixen and Donder, are warming up for their final leap. There's a big crowd gathering at the North Pole for the final jump, and there's a surprise guest at the competition, too! Santa has made a surprise appearance at the Games, and will utter a few words to all.
"Thanks to all the fans who have come out to watch the Reindeer Games, and to all our fans around the world following the Games in the North Pole Times," said Santa. "I hope all of you have enjoyed the competition so far. And congratulations to the reindeer, too. I know each one of you is trying as hard as possible. That's all that matters. It's nice to win a gold medal, yes. But to do your best at all times, in everything you do, that's always worth congratulations." Great words from Santa, as always! And now it's time for the final jumps. The reindeer are ready, and first up is Vixen. Vixen is approaching, and Vixen makes a good plant into the ice, and Vixen soars up into the air with an excellent leap. Vixen is up and up and over the big Christmas tree. The Elves are measuring, and it's a jump of 6,393 feet. That's a very good jump for Vixen!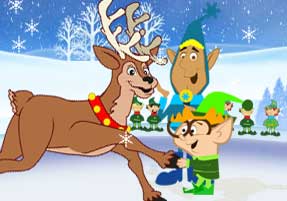 Donder is next. And this is the final jump of the competition. If Donder jumps higher than Vixen, Donder wins the gold medal. If not, then Vixen will win. Here we go! Donder is ready, and Donder makes the approach. A good takeoff for Donder, and up and up and up and over. A very good leap for Donder!
But how high? Will the leap be high enough? The Elves are measuring. And it is! Donder wins! Donder wins the gold medal with a leap of 6,395 feet, just a hair ahead of Vixen.
And there's your winner in the High Jump, Donder, for the fifth gold medal of the Games. The first four gold medals were awarded to Comet in the Speed Skating event, Blitzen for Ski Jumping, Dancer in Figure Skating, while Dasher won the first-ever Luge competition.
And now there are just three events left in the Games. Check back tomorrow for the start of the Around-the-World race, followed by the Snowboarding event, and finally, the Cross-Country Skiing event! The North Pole Times - #1 in Santa's News! Trusted Worldwide!