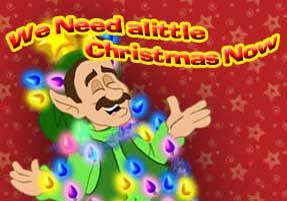 Hi friends,
I would have to say that one of my Top Ten favorite Christmas songs is "We Need a Little Christmas".
The song has two points that jumped out at me this week. First, "we NEED a little Christmas". Boy, do we ever need Christmas. Christmas contains so much goodness and kindness that I ask you to carry all through the year.
Second, the other part of the song that jumps out at me is "right this very minute!"
People are in such a rush. It's true all year-round, but most especially during the holidays between Thanksgiving, Christmas and New Year's Day. You've seen people push to get a place in line or grabbing at the last item in a bin that more than one person wants. You may have even seen drivers get upset with each other on the road... trying to squeeze into the same lane. Just so you know, when Santa and the sleigh fly on Christmas Eve, there is none of that!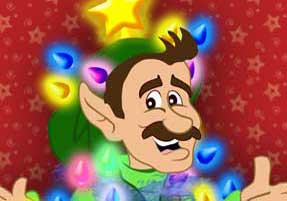 It seems like with all the rushing around and busy-ness of our lives here at the North Pole and around the world, we need to slow down and enjoy the times spent with friends, family, classmates, teachers, neighbors. Have a cookie, a cup of hot chocolate, a glass of milk. Laugh, make a home-made card or Christmas craft. Sing Christmas Carols, decorate a tree. Visit family you only see once in a great while. Enjoy this special, special time of year. Why? We NEED it!
Until we talk next wEDnesday.
Eddie Elf
P.S. Here are the words to the entire song, "We Need a Little Christmas", by Jerry Herman.
WE NEED A LITTLE CHRISTMAS
From the show "Mame" (1966)
(Jerry Herman)

Haul out the holly
Put up the tree before my spirit falls again
Fill up the stocking I may be rushing things, but deck the halls again now.
For we need a little Christmas
Right this very minute
Candles in the window
Carols at the spinet

Yes, we need a little Christmas
Right this very minute
It hasn't snowed a single flurry
But Santa, dear, we're in a hurry!

So climb down the chimney
Turn on the brightest string of light I've ever seen Slice up the fruitcake It's time we hung some tinsel on that evergreen bough.
For I've grown a little leaner
Grown a little colder
Grown a little sadder
Grown a little older
And I need a little angel
Sitting on my shoulder
Need a little Christmas now!

For we need a little music
Need a little laughter
Need a little singing
Ringing through the rafter
And we need a little snappy
"Happy ever after"
Need a little Christmas now!