As of last week, the Dodger-Bobber widget is still missing. If you recall, Super Secret and the Cosmic Kid checked the Appendapulator, the toy making area, the game room, the coloring room, and mazes table and they still weren't able to find the widget. Time is running out and Christmas is quickly approaching, the Dodger-Bobber Widget must be found immediately!
"The Dodger-Bobber Widget has to be wrapped in one of the presents, I just know it" cried Super Secret. "Super Secret, that's not possible! The Appendapulator has a scientific wrapping sensor that scientifically senses the wrapping of presents" stated Gizmo. "Gizmo, that's the only thing that makes sense at this point. It has to be wrapped in one of the gifts; we need to open all the gifts now!
Gizmo walks over and pushes a big button to open the biggest door in the Workshop. Once opened, a room larger than any room ever seen or imaginable is revealed. The room is several miles deep, as wide as it is deep and a mile high. All you can see are hundreds of millions of wrapped presents.
Super Secret and the Cosmic Kid look at one another with wide eyes and jaws dropped.
"Well, let's get started, these gifts aren't going to unwrap themselves." says Super Secret. "I really think we need to TALK WITH Waldo first" the Cosmic Kid replies. "Gizmo said it's gonna take years to unwrap all these gifts and by the looks of it, I'll be an adult by the time we finish" the Cosmic Kid continued. "I have a feeling the widget is in one of these presents…I just know it!" Super Secret said confidently.
They search through Xbox's and knitted socks, Lego Blocks in a colored box. They search Playstations, clothes and shoes, arts and crafts, and Blue's Clues. They search Paw Patrol and iPads, Pomsies Patches and gifts for dads.
As they continue their search they hear a familiar voice in the background. "I know you're on a super secret case guys, but I can't wait any longer. I really need to get this back to Gizmo right away. He was supposed to have it last Sunday, but I didn't want to interfere with your investigation." Waldo Elf reaches into his pocket and pulls out a newly painted Dodger-Bobber Widget. "I wanted to surprise Santa by painting it the color of strawberry and mustard pudding. Isn't it beautiful?"
"I knew it! I knew it all along!" shouted Super Secret. "Waldo Elf had it all along, just as I suspected." Super Secret continued patting the Cosmic Kid on the head. "Ya see Cosmic Kid, it's all about strategy. Case solved!" smiled Super Secret. The Comic Kid looks at Super Secret is disbelief.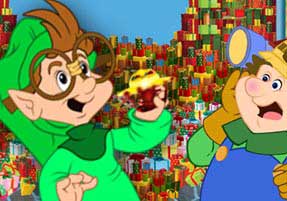 Waldo delivers the Dodger-Bobber Widget to Gizmo who looks relieved and jumps for joy when Waldo presents him with the painted prize.
"Waldo, why didn't you tell me you had the widget? Super secret and the Cosmic Kid have been looking all over the place for this!" cried Gizmo.
"I'm sorry Gizmo, I just wanted to surprise Santa by painting it my favorite colors. Doesn't it look wonderful?"
"It does indeed. Santa will be very happy." replied Gizmo.
Gizmo takes the widget from Waldo and immediately goes to place the strawberry and mustard colored widget back on the sleigh just in time for Christmas Eve.
Once again Super Secret Jack Spinner the Specialized Sleuth and his Mighty Sidekick Zachery the Cosmic Kid solve the Super Secret case!
Will there be another Super Secret Case next year? Will Santa need the incredible skills of this Mighty Duo?
Check back next season to find out!
Same Super Secret Time! Same Super Secret Place!