This week, I turbo boosted once more over the Indian Ocean all the way from South Africa to New Zealand. I think I've burned out my engine and need to find a good sleigh mechanic. Hopefully here in the city of Queenstown I can find one. This is the farthest south I have ever been. In fact, I think I can see Antarctica and the South Pole from here!
New Zealand is like South Africa and is still in the Southern Hemisphere, so it's summertime on December 25th. People head to the beaches or holiday homes to celebrate the coming of Santa. Because it's so warm Santa puts on a pair of sandals when he visits. Kids give out carrots for the reindeer and beer and pineapple for Santa. New Zealanders decorate for Christmas with traditional Northern winter decorations, but often combine them with local plants. Native vegetation, ferns, and trees are displayed alongside traditional Christmas flowers such as mistletoe. The Pohutukawa tree is a Christmas tree that grows on the coast of North Island and flower throughout the Christmas season. Stories say that the earlier its red flowers bloom the longer and hotter the summer will be.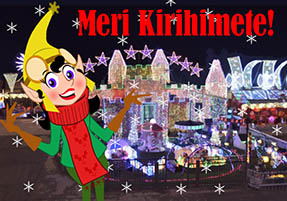 The big cities of New Zealand celebrate with Christmas displays, parades, lots of lights. Families and friends like to go caroling together or see shows in theaters. New Zealand has created some unique and special carols in English and in Maori, their second language. Families cook barbecue for dinner that includes ham, turkey, venison, fish and shrimp to eat. For dessert they get to eat pudding, jelly and ice cream! Sounds delicious. Finally, instead of saying Merry Christmas, a lot of people use the Maori language greeting of Meri Kirihimete!
That's all for Franny Fridays this week kids. I'm going to head back to the North Pole soon, but before I do I have one more stop on my way north.
Next week I'll be stopping by South Korea to see how the children in that country finish celebrating the Christmas season. Hope to see you there!