It's getting closer to Christmas Day! I hope you're getting excited. I know we elves are. We work all year-long to get everything ready for Santa to load in his sleigh to make the big trip to your house and all the houses we go to!
One of the things you may not know about life here at the North Pole is we get to eat your favorite Christmas treats every day of the year! Yep, that's right. Frosted Christmas cookies and candy canes and eggnog and everything you can think of. It's why none of us ever move away! Who'd want to leave getting treated to treats like that every day?
What are some of your favorite treats over the holidays?
Does your family roast chestnuts on an open fire or in an oven? They are a special treat that I make sure I get to taste every December.
What's your favorite sweet treat at Christmas time? I love to bake, frost and decorate sugar cookies with all different shapes that remind me of all my friends: Santa, Rudolph and the other reindeer, the Christmas star, Holiday Bells, Gingerbread men and women, snowmen and snowwomen, you name it! I've got a cookie cutter for it and use it all the time!
I also love cream cheese cookies with either red or green sugar sprinkles on top or a maraschino cherry pressed into the top of the dough before baking. Mm-mm, good!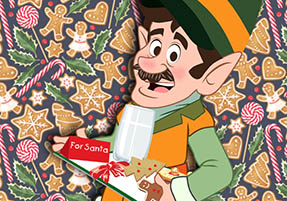 While I could make it year-round, Christmas time is my favorite time to make homemade eggnog. I usually have some elf friends over after a long day of work and sit in front of the fireplace while sipping eggnog with nutmeg sprinkled on top.
Do you have any holiday traditions in your family?
Some of my elf friends have special holiday movies that they like to watch. Of course, our favorite is – you guessed it – ELF! Others like the different versions of Miracle on 34th Street. There are way too many to name.
I hope you get to enjoy eating or sipping your favorite Christmastime treats and watch a favorite holiday movie or show on a screen near you as the big day gets closer.
It's important to carry on traditions both as children and when we grow up. The holidays are a special time to do that or to make new traditions!
We'll see you again soon. Log on next week for my new EDitorial.
For goodness sake,
Eddie Elf