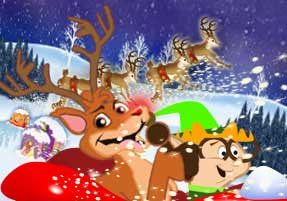 Welcome back to the Reindeer Games!
Today, we begin our fourth event, the Around-the-World Marathon.
We've had three gold medal winners so far – Donder in the High Jump, Comet in the Long Jump and Vixen in the Sprint Race.
And today we begin our first event outside of the North Pole. Really outside the North Pole! In the four-day competition, the reindeer will race all over the world for the fourth gold medal of the games. The first leg of the Marathon will take the deer all the way through Canada and then to the United States.
"This is a really important event for the reindeer," says Rudolph. "It's really a warm-up for the Big Night when the reindeer bring so many presents to all the children on Santa's Nice Last." That said, Rudolph has been informed by Toomer Elf that many children haven't quite made the nice list yet. "Oh, that's not good," says Rudolph. "If boys and girls are not doing good deeds and terrific tasks, it won't matter that the Reindeer can fly all over the world. Because Santa won't bring many presents to children who are naughty, no matter how fast the reindeer fly. Hopefully, children will be doing more terrific tasks before Christmas and throughout the year."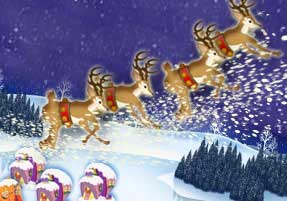 Meanwhile, the reindeer are ready to begin the Marathon. The many folks at the North Pole have packed Santa's Workshop Arena to see the deer off. The race begins here and ends here. But in between, the deer will travel to the 10 provinces and three territories of Canada and then all 50 states in the USA, with the final stop being in New Jersey, just on the first day!
"That's some first day," says Rudolph. "I'm not sure I even know the 10 provinces and three territories of Canada. I think I need to brush up." For sure: Canada's 10 provinces are Alberta, British Columbia, Manitoba, New Brunswick, Newfoundland and Labrador, Nova Scotia, Ontario, Prince Edward Island, Quebec, and Saskatchewan. The three territories are the Northwest Territories, Yukon and Nunavut. Add that to the 50 states and we have some first day.
Check back tomorrow to see how the deer do on the second day of the Around-the-World Marathon.