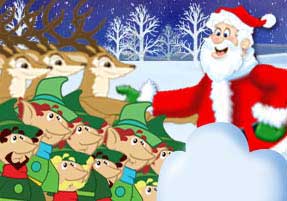 Welcome to the Reindeer Games! Once again, the many happy folks of the North Pole will pack the stands to see Santa's famous reindeer compete in eight great events. Starting tomorrow, our reindeer – Cupid, Comet, Dancer, Donder, Prancer, Dasher, Vixen and Blitzen – will show their very special talents as they get ready for the Big Night on December 24 when they pull Santa's sleigh all around the world, bringing gifts to so many children.
Our events this year will be the High Jump, Long Jump, Sprint Race, Around-the-World Marathon, Figure Skating, Speed Skating, the Obstacle Course and Snowboarding. But first, we head out to Santa's Workshop Arena, where Santa himself is leading the parade of reindeer in front of a packed house.
"The fans are going wild already," says Rudolph the Red Nosed Reindeer, from his special broadcasting booth at the Games. "No doubt, it will be another exciting Reindeer Games!"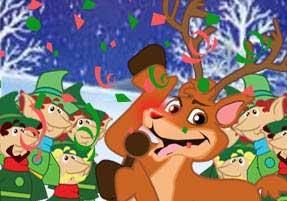 Rudolph will be on hand to help us understand the finer points of the various events, but, once again, will not play in any Reindeer Games. And now Santa will say a few words to kick off the Games. "Over the next few weeks, we will be fortunate to see the Great Eight Reindeer perform some amazing feats in these Games," says Santa. "They have many great talents and can run super fast and jump very high and can skate, and ski and snowboard."
"But I want all you boys and girls out there following the games to know this: you need not be the fastest or the strongest or the best to play in games where you are. Games like these are for everyone no matter how big or strong. Playing games is a great way to get good exercise that will keep you healthy, have some fun and even make your brain work better." "So follow the Reindeer for sure, but make sure you try yourself at whatever sport or game you want to play!"
Fine words indeed and that should do it for the Opening Ceremonies at the Reindeer Games.
Check back tomorrow for our first event – the High Jump! Right here... ONLY on the North Pole Times!