You hear that saying a lot this time of year. You might read it in a card, hear it said on TV.
There's even a song with those words in it. Can you hear it?
I wanted to write a little bit about wishes.
When I was your age, I used to wish for things. I think that's pretty normal. I wanted a new bike like my neighbor down the street or a swimming pool for our family like my cousins had when we visited their home.
As time went on, I wanted to experience different things. We get a few days away from the North Pole each year. I like to string days off together like twinkling lights on a Christmas tree and go on an adventure, do something fun that I've never done before. Those then became the things I wished for. Sometimes my mind takes me to a place while I'm eating my lunch in the cafeteria here and then I'll wish for that.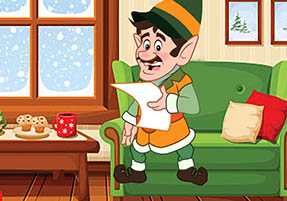 Now that I'm a little older, I find that my wishes are about people. I wish I got to see my family more or I wish a friend who was sick felt better. I wish my best elf friend lived closer. He's on special assignment for Santa at an undisclosed location. He may help Santa being able to know how you're doing in the good or not so good behavior department. I cannot confirm or deny that.
Think about them – people, places, things. What do you wish for?
Go ahead and write up a wish list for Santa, but also write one up for yourself about things you want to do, people you want to see.
As Christmas draws near, I hope that some of your wishes start to come true.
The thing I've found about wishes is that they may not happen when you want them to, and that's okay. I've learned they're not always meant to. It leaves us still having wishes and wanting, a hope for the future. We all need that.
I wish YOU a Merry Christmas.
Until next wEDnesday!
For goodness sake,
Eddie Elf