Hi kids! It's me Franny Elf, here to bring you one last Franny Friday report for the year. My job is to travel around the world to see how kids celebrate Christmas in so many different countries. I have just left sunny and warm New Zealand and my last stop this year is in South Korea. South Korea is the bottom part of a peninsula, that's a piece of land that is surrounded by water on all but one side. It is also just to the west of Japan, which I had a great time when I visited a few years ago.
Brrrr! Well, it's definitely winter here. It's cold for sure in December, but it doesn't snow too much because of all the water in the surrounding seas. We're in luck though, there is a light dusting of snow making it seem all the more Christmas-y. Kids and adults get Christmas off as a holiday, but they don't get a longer break until later in the winter. Most families spend Christmas morning going to church. Churches are specially decorated for the season but also glow with big neon crosses that are lit all year long. In the capital of Seoul, the city is in charge of holiday lights, they put wonderous lights on all the bridges along the Han River. People like to decorate their homes with more traditional gifts that represent their history like silk slippers or drums.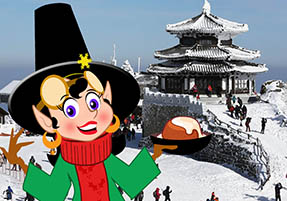 For gifts people usually only get one gift per person. Some people give toys and trinkets, but traditionally money is handed out as a present. Some families eat a Christmas potluck dinner at home, but many more go out to restaurants or buffets in the evening. Christmas Cake is served, which most of the time is a sponge cake covered in ice cream. Yum!
Finally, Christmas is seen as a romantic holiday, so younger couples are more likely to spend it together than with their families. I've heard from some kids that they see Santa throughout the season but that they call him Santa Grandfather and he sometimes wears blue! Imagine that!
Thanks for joining me in finding out how people in South Korea celebrate Christmas. It sure sounds like a fun time! I'm heading back home now to the North Pole to give my last report to Santa. Be on the lookout for him flying over your country in just a short while. Meanwhile I'll see you next Christmas Season! Merry Christmas everyone!!!