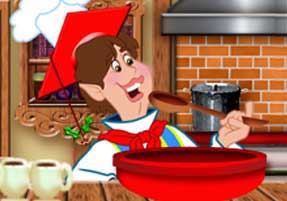 Welcome back to school everyone! I'm Professor Ellie Elf, a teacher at Santa's School of Wonders. Today we are having a fun and messy learning day. Why? Because our elves are studying our favorite, scrump-diddly-umptious drink...hot cocoa.
Drinking hot cocoa keeps us elves warm and comfy and helps us get through the long winter when the North Pole has no sunlight for six months. That's a long time without sunshine!
Have you ever felt better after having a piece of chocolate or cup of cocoa? Then you know just how cocoa makes us feel. You might get your cocoa from a box or tin from the store, but way before that, it came from a tree – the cacao tree.
The cacao (pronounced ka-kow) is a small tree with fruit like little footballs that stick right out from the trunk. It looks very strange if you've never seen it before! The cacao fruit has bitter brown seeds – cacao beans -- that are used to make cocoa and chocolate. The cacao plant only grows where it can get lots of sunshine all the time, in places like Central and South America (where it's from), Jamaica, and Africa. I think it's all that sunshine that somehow makes those cocoa beans so special.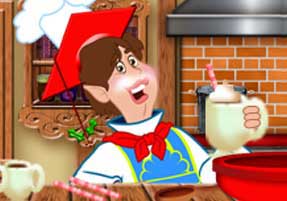 When I drink my hot cocoa, I imagine I'm drinking sunshine in a cup! I guess that's why it always makes me smile. So, how do we make cocoa at the North Pole? We use our own, homemade chocolate syrup. It's fast and easy and you can even spoon it on ice cream or use it to make chocolate milk. Have an adult help you make our recipe below.
North Pole Chocolate Syrup
1/2 cup water
1/3 cup of white sugar
1/3 cup of natural cocoa
dash of salt
1/2 teaspoon vanilla extract
Combine all of the ingredients except vanilla in a saucepan and cook over medium-low heat, stirring constantly, until the mixture begins to simmer and thicken. Remove from the heat and stir in vanilla. Serve warm or let cool and store in the refrigerator for up to a month.
For hot chocolate:
Stir in one or two teaspoons of syrup into hot milk. You can also add other flavors to your cocoa by adding a dash of cinnamon, crushed peppermint candy, chopped chocolate, or mint extract.
Don't forget marshmallows or whipped cream!
Come visit our classroom next week to make some Christmas gifts – out of words!