Last week, Super Secret took an accidental sleigh ride while the Kosmic Kid cracked the code.

Super Secret sat shivering, sipping a cup of hot cocoa, wrapped in a blanket with both of his feet in a bucket of warm water.
"I s-s-s-olved the case!" chattered Super Secret. "The reins fell out of the s-s-sleigh on Santa's test ride somewhere over Anchorage! I left my other b-b-b-boot there to mark the spot!"

"Are you sure you didn't just drop it by accident?" inquired the Kosmic Kid.

"Unclear." admitted Super Secret.
"Well, I cracked the code while you were, uh, on your trip! It seems that Waldo-"
"Exactly! Waldo! As I've been saying all along! Where's Gherkin?"
"Pickles," corrected Kosmic Kid, "he went to find Waldo-"

"And now they're both missing!?" Super Secret said "This mystery is getting more mysterious!"

Suddenly, a boisterous "Ho, Ho, Ho" came echoing through the barn. "Well, well, well, Super Secret Jack Spinner and the Kosmic Kid!" bellowed Santa Claus. "Boy, am I glad to see you two!"

"Santa, we solved-," began Kosmic Kid.
"I'll tell him, Kid!" interrupted Super Secret. "Looks like a snowman named Waldo stole the reins, made them into some kind of pickle soup and then threw a surprise party for his pet mouse named Chris!"

Kosmic Kid and Santa both said: "Hunh?"
"I thought it sounded weird too," admitted Super Secret.

"Actually, it was Waldo Elf," Kosmic began, "and he can tell you himself."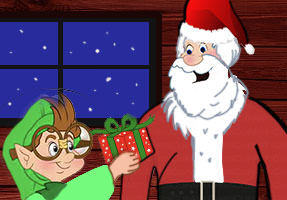 Behind Santa, Pickles stood next to Waldo who was holding a Christmas present.

"I took the reins, it's true," said Waldo.
"I knew it!" said Super Secret, "I just knew it!"
Santa opened the present and inside were the reins, with brand new, shiny jingle bells!
"I thought they needed new jingle bells for the big night. I left a note for Pickles; I guess he missed it."
Pickles blushed. "Sorry. I'm new here."
Santa looked at Waldo, then started laughing as only he can: "Ho, ho, ho!"
Then they all started laughing.
"Well, looks like I've solved another case!" proclaimed Super Secret as he patted Kosmic Kid on the head. "Stick with me, Kid. Someday you'll make a decent detective!"
"Thanks, Jack," said Santa. "And you too, Zack. I must get back to work. Christmas is just around the corner"
And with that, Santa turned and set off for the workshop with his newly furbished reins in hand. But before he walked out, Super Secret said, "One more thing, Santa. Any chance I can get new pair of boots for Christmas?"
Another exciting mystery solved by Super Secret Jack Spinner the Specialized Sleuth and his Mighty Sidekick, Zachery the Kosmic Kid!
Check back in next year for another exciting case, ONLY on the North Pole Times!
Same Super Secret time! Same Super Secret place!