Will the games go on?
So far, we've had four events in this year's Reindeer Games and four gold medal winners: Prancer in the High Jump, Cupid in the Long Jump, Dasher in the Sprint Race and Donder in the Around the World Marathon.
The competition has been fun for all at the North Pole. And the reindeer have been magnificent, showing the great strength, speed and skill that will be necessary for the big run on Christmas Eve.
Yet, as Santa flies about space, hoping for a rocket ship to save both him and Christmas, the reindeer are ready to start the Figure Skating competition today at the Hoojamawazit Skating and Ice Cream Palace. But there's one problem: the elves are on strike!
Not only does that mean no toys, but that also means no judges for the Figure Skating event. The striking elves include the Official Elves, our friends who judge all the events at the games.
"Well, if there are no judges, what can we do?" said Rudolph. "It's kind of difficult to have a figure skating competition without the judges to decide who's making the grade, so to speak. I wonder what we'll do."
Postponing the competition is not an option, as the Great Eight reindeer need to keep up their physical activity, else they won't be ready to fly Santa's sleigh on Christmas Eve. And that means no toys for the world's children, even if the elves get back to work.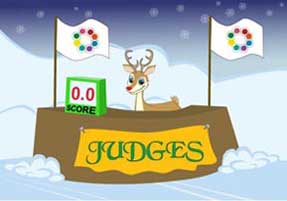 "No, that won't do," said Rudolph. "Speaking for all reindeer, we must be at our best for Christmas Eve. And that means continuing with the Reindeer Games."
And so, after quiet discussion with the all the reindeer, Rudolph had a suggestion.
"How about if I judge the Figure Skating competition?" he asked. "I know the rules, and I will be as fair as I can be."
And so it was. Rudolph moved from his commentating position and headed over to the judge's booth, once again doing his best to save Christmas.
Just at that moment, Vixen, Cupid, Donder, Blitzen, Prancer, Dasher, Dancer and Comet took to the ice, skates and all, for the first round of the competition.
Each performed a "compulsory" program, as they say in figure skating, that is, each one performed the same tricks, while Rudolph did his best to judge.
All performed well, and the point totals are very, very close. And all will perform again tomorrow in the second round of the event, the "short program," as Rudolph gets ready to judge once again.
Check back to see what happens!