Hi everyone! I think I just blew out my turbo engine as I flew super-fast from northwest Canada halfway around the globe to sunny South Africa.
You're just in time for another Friday report on how people around the world celebrate Christmas. I had to rush to South Africa because one of Santa's Elves mailed a whole bunch of snow balls there and they are melting!
South Africa is one of many countries in Africa, it's on the very bottom of the continent. When it's cold and snowy at the North Pole, it's warm and summertime there! To make up for no snow, a lot of people use beautiful, blooming flowers to decorate. Families will adorn their home with fir trees and wreathes. Kids have off from school, so they use that as a chance to go camping! Beginning in December, groups of people go around caroling by candlelight to markets, churches and neighborhoods.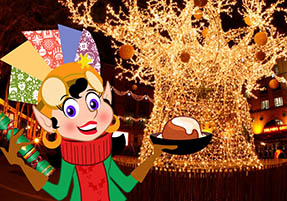 After going to church on Christmas Day, families and friends gather for a great big meal. Sometimes the meat is cooked on the barbeque, and is served with vegetables, rice and roast potatoes. Other times everyone brings their own special dish to pass. South Africans love Malva Pudding for dessert, with custard or ice cream added to it. The kids love getting all sorts of presents, including Christmas Crackers. Not the kind that you put cheese on, but the small wrapped presents full of small joke gifts. I remember seeing those in England. They pop when you open them up!
With all the flowers and decorations, Christmas in South Africa is a very beautiful place to be during the summer. I think I saved those snow balls by putting them in my cooler, but my next stop is a quick one in New Zealand, and that's even farther south than South Africa!
Hope you join me again next week for another Franny Friday!