Wow boys and girls, it sure is hot down here! Remind me to ask Santa why he keeps on sending me to places where there isn't any snow in December!
Last week I was visiting the islands of Hawaii, now I'm in sunny Brazil. The special thing about Christmas in Brazil is that since it is south of the equator the weather is the opposite of what we have in the North Pole. That means its summertime during Christmas! When Santa visits here, he doesn't want to wear a heavy coat, so he puts on silk clothing. To make pretend it's snowy, some families put little pieces of cotton on their Christmas trees. What do you do to make it a white Christmas when there's no snow in your town?
Brazil is a very large country, so it has people from a lot of places that celebrate in different ways. But one way all Brazilians celebrate is by putting up a nativity scene. I'm sure you've seen these around your town; they include a manger, animals and angels. You can see these nativity scenes in houses, stores and churches. In Brazil these are kept up until January 6th, when the wise men come to visit and bring special gifts. Brazilians keep their Christmas celebrations, feasts and dancing going until then.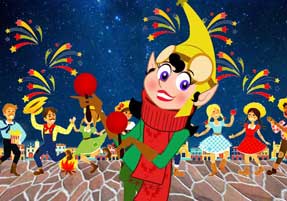 Many neighborhoods are decorated using flowers grown in local gardens, and large cities often put up a giant tree of lights and have fireworks at night, for everyone to see and enjoy! A lot people have a huge Christmas dinner on Christmas Day. Their dinner is similar to a lot of other countries, which is made up of turkey, ham, rice and lots of fruits and vegetables.
Brazil is super nice to visit, but it takes so long to get there from the North Pole. I've heard that hopefully Santa will soon set up a toy factory nearby soon, so that the reindeer won't have to eat chili to get here faster! Boy that was a mess!
I hope that helps out Santa when he visits Brazil this Christmas! I know I had fun being here for a couple of days. And I hope that you come back next week to visit me! For another Franny Friday's!