Welcome back to the the incredible Reindeer Games! Today, our famous reindeer begin the second event of this year's competition, the Long Jump.
Yesterday, we completed our first event – the High Jump, and the first gold medal winner was Dancer.
Santa was pleased with Dancer's efforts, and all of the reindeer for that matter, and he praised them before today's event.
"I wanted them to know that they will be working as a team on Christmas Eve, pulling my sleigh all over the world," said Santa. "They will be one team, working together. But in the Reindeer Games, I would like each to try as hard as they can to win the gold medal. I want to see each reindeer give their best effort and have fun, too!"
And with that message, we begin the Long Jump event. Once again, Santa's Workshop Arena is packed for the start of the event. The reindeer have amazing leaping abilities and will be starting their jumps in the Arena but landing many, many miles away! The Official Elves will be on the spot to record the leaps and report back to the waiting crowd.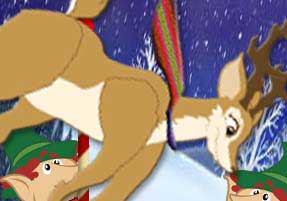 And so we begin! First up is Cupid. She begins her run-up to the jump-off point, and she's moving faster and faster and finally she's in the air. As we know, no flying is allowed in this event (oh, the Reindeer can fly very well!). But they can jump very, very far without flying, too. And Cupid comes down an amazing 23 miles from the Arena.
"That's a super leap," said Rudolph, on hand for expert commentary during the games. "That one may be hard to beat. We shall see what the other deer can do!"
Next up is Dasher. She has a swift run-up to the jump-off point and she's off. Once again, it's an excellent leap -- 23.5 miles.
Dancer, Donder, Comet, Vixen, Prancer and Blitzen follow with good leaps, as well, and the Official Elves are frantically measuring the leaps and tallying the scores.
"Only the top four will move on to tomorrow's final round," said Rudolph. "It should be very, very close!"
After much measuring and tallying, it looks like Prancer, Vixen, Dancer and Donder have finished with the best four leaps, all more than 26 miles.
"I am very pleased," said Santa. "Every reindeer is trying hard and having a good time. So far, the games are going well."
And so, check back tomorrow to see who wins the second gold medal of the games when we complete the Long Jump competition! And after that, the Great Eight will compete in the Sprint Race, the Around-the-World Marathon, Figure Skating, Speed Skating, the Obstacle Course and the Snowboarding event.