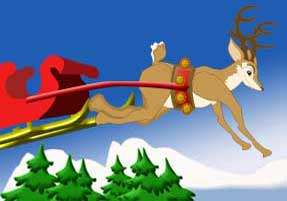 The Games continued today with our seventh event – the Obstacle Course – an event perhaps more challenging for the elves to build than for our Great Eight Reindeer to complete.
"We've been racking our brains for months trying to come up with a good course," said Manny Elf, head of Reindeer Game Obstacle Course Construction. "But it's not so easy, you know. Santa's Reindeer can do anything – run super fast, fly very high, leap over tall buildings. There aren't many obstacles that present an obstacle for them – if you know what I mean."
So what to do? Since our reindeer can do so many things, what could possibly be difficult for them?
"Well, what can I do?" said Manny. "I guess I'll just make the course as close to a Christmas Eve run as I can. At least that will be fun for everyone to watch."
And so it was done. Each reindeer will be hitched to a big sleigh full of gifts – just like on Christmas Eve (except Santa won't be along for the ride on our course).
When the race begins, each will take off with the sleigh, fly over a river, through the woods many miles outside the North Pole, make a big u-turn at Schenectady and then head back.
Once back at the North Pole, the reindeer will land on a big house, unload some gifts and then take off toward the end of the course. Just before the finish line, each reindeer will put on some skates and perform a double back-flip on the ice.
"Well, they won't have to do the back-flips on Christmas Eve," said Manny. "We just thought it would be fun for the reindeer and exciting for everyone to see!"
Indeed it will be. And so before a packed house at Manny's Super-Duper Obstacle Course Stadium, the event was ready to begin.
First up – Donder. She's got her sleigh – and she's off! Donder takes off effortlessly and heads for Schenectady and makes it in very good time. And now she's heading back to the Pole and our house on the course.
"Oh my, it's a beautiful landing on the roof," said Rudolph. "Donder looks ready for the big run."
And then to the end of the course and some effortless double back-flips on the ice and Donder is across the line in 43.2 seconds. A superb performance.
The rest of the Great Eight followed with good showings as well, but only the top four could move to tomorrow's final round. It looks like Dasher, Donder, Dancer and Vixen are the top four, finishing just ahead of Prancer, Cupid, Comet and Blitzen.
Check back tomorrow when they will race once again for the gold medal!