Well, what should we do?
That's what all of Santa's elves and all the folks at the North Pole were wondering as the Opening Ceremonies for the annual Reindeer Games were just minutes away.
Usually, Santa leads a big parade into Santa's Workshop Arena, and then takes his special place in the ice box seats to view the ceremonies and the start of the games. Santa loves to watch his best reindeer compete in the many events of the games, and he always enjoys presiding over the Opening Ceremonies.
But Santa is not to be found this day, and no one knows what to do! It seems, according to reports, Santa has apparently blasted off into space! Could this be true? If so, what do we do?
"Should the games go on?" asked Rudolph of the bright red nose, one of Santa's favorite reindeer. "Without Santa, how can the games go on?"
Rudolph, who is not allowed to play in any Reindeer Games, joined with the Official Elves -- the elves in charge of refereeing the games – and they had a long, long talk.
After much whispering and lots of nodding and head-shaking, they broke from their huddle and made a big announcement. They decided to continue the games!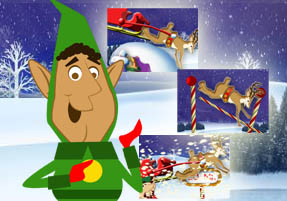 "We all hope and pray Santa will be back in time for Christmas, we sure do," said Manny Elf, head of Reindeer Games Event Construction. "We don't know for sure, but we've got to get ready in case he does. I wouldn't want to think what would happen if he doesn't come back – oh, no, I don't want to think about that -- so let's hope that he does!"
And with that, the Opening Ceremonies got underway and the Great Eight competitors, Vixen, Cupid, Dasher, Donder, Dancer, Comet, Prancer and Blitzen, all marched into the Arena to loud cheers from all.
The Great Eight once again will show their stuff in eight difficult events over the next 20 days, hoping to the entertain the locals while getting ready for the Big Night – Christmas Eve (at least we hope so!)
Once again, the Reindeer Games will feature the High Jump, Long Jump, Sprint Race, the Around The World Marathon, Figure Skating, Speed Skating, Obstacle Course and 2222-Mile Marathon.
A slightly disappointed Rudolph will not play in any Reindeer Games, but will be on hand to provide expert commentary, as well as some very bright lighting for the night competitions.
The Games will begin tomorrow with our first event – the High Jump. Check back to see how our Reindeer do in this difficult event.