Today is our last day of competition at the Games. It's been a spirited and fun competition so far, and the Games will be missed when they're over!
Seven events have been completed, and so far gold medals have been awarded to Comet in the Speed Skating event, Blitzen for Ski Jumping, Dancer in Figure Skating, Dasher in the first-ever Luge competition, Donder for the High Jump, Prancer in the Around-the-World race, and Vixen for Snowboarding.
Today, we have the second and final day of the last event, the Cross-Country Skiing competition. The reindeer made a good start yesterday on the 40-kilometer course (that's about 25 miles). And there's about 20 kilometers to go!
Let's check in with our very famous host Jim McSnowflake Elf, and see what's happening on the course.
"Well guys, we're coming down to the final stretch run. And Dasher, Dancer, Prancer, Vixen, Comet, Cupid, Donder and Blitzen are all skiing well. It's going to be a close finish!"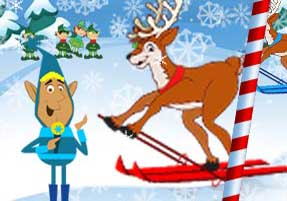 Yes it is. The reindeer are close to the finish line now, and two deer have taken a lead on the rest of the pack. Cupid and Donder have made a move away from the rest, and are trying to win the last gold medal of the Games! It's going to be close. Back and forth they go. Cupid and Donder. Donder and Cupid!
And across the finish line, it's Cupid! Cupid is the winner of the final event of this year's Reindeer Games, the Cross-Country Ski race. Well, that's it for the competition for this year. All the reindeer gave their very best in every race. Tried as hard as they could. And that's what is most important. Sometimes you will finish first, and sometimes not. But you can always give a good effort, and try to improve at whatever you do. Let's hope that is a lesson we can all follow.
Well, that's it for the competition for the year, but check back tomorrow for the Closing Ceremonies when the reindeer will be saluted at the Ice Palace for their good efforts in the Games. ONLY on The North Pole Times! #1 in Santa's News! Trusted Worldwide!