The Reindeer Games continued with the final round of the Sprint Race, the third event of this year's games.
Well, our first round of the Sprint Race yesterday saw Dasher, Comet, Donder and Prancer capture the first four places -- although the race didn't last too long! Our reindeer move so fast that all the elves who came out to see the race received a special pair of glasses to see the race in slow motion. "My glasses worked well," said Rudolph the Red-Nose Reindeer, still not allowed to play in any reindeer games. "I saw the reindeer very well, and now we need a pair of glasses to help us find Santa. But that may be not so easy." And so today is the final for the Sprint Race. Dasher, Comet, Donder and Prancer are up at the starting line and almost ready to go. It will be once round the track and the top finisher will get the gold. We're ready to go and we're off! Well it looks like Donder has taken the lead just ahead of Prancer. And Dasher and Comet are very close behind.
"The race is very close," said Rudolph. "It should be a great finish."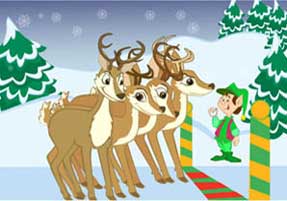 Oh my, now it's Prancer in the lead, followed by Dasher and Comet. And now, down the backstretch it's too close to call. All four are antler to antler. And now, we're heading around the final turn and Comet has taken a slight lead over Prancer, while Dancer and Donder are just off the pace. Now they're heading around the final turn and DOWN the stretch they come!
And who will it be? Just across the finish line, it's Dasher by half an antler over Comet. And so Dasher wins the third gold medal of the games.
Check back tomorrow for the start of our fourth event, the Around-the-World Marathon.