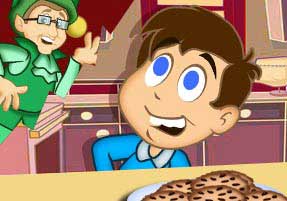 Once there was a happy little sheep named Stanley. He lived with his family on a farm in the hills and spent all day every day skipping and dancing among the daisies. One beautiful day he was dancing away when...
Pssst! Hey you!
Don't look around – I mean you!
Don't move! Keep reading...
Pretend that this is still a story about Stanley the sheep, even though it's not really a story about a fluffy farm animal. And it wasn't written by Priscilla Pennyweather either!
It's Toomer Elf here and I'm working undercover this week so I've disguised my second Terrific Task Tuesdays article. I've got more important things to discuss than skipping sheep. You probably remember from last week that I've had a letter from Santa who's got a big problem. The numbers of children doing naughty deeds is way higher than normal. It's my job to investigate and report back to Santa before Christmas Eve. I'm an elf on a mission.
As I said, this week I'm working undercover and I've been following one boy to see what's going on. Now, Joe is a boy who is normally one of the first names on the Nice List without fail. He keeps his room tidy, walks the dog and even does shopping for his gran. Whenever the names come through for the Nice List, I don't even check whether Joe's on it – he's just there.
But this year, he looks like not making it and I think I've found out why.
Yesterday Joe's mom baked a tray of chocolate brownies and left them on the kitchen table to cool. I was hiding, unseen, in the kitchen and saw what happened. "You won't touch these, will you Joe?" his mom said. "They're for your sister's birthday party on Saturday."
Joe nodded. Of course he wasn't going to touch them... This is Joe we're talking about - Mr Nice List.
But, as soon as Mom left the room a strange thing happened. A rather grubby-looking character tiptoed up behind Joe. Was he a goblin? A fairy? An elf? I'm not sure. All I know is that I could tell just by looking that he was a nasty piece of work. He whispered something in Joe's ear. Now, I like my food, but I've never seen anyone eat as quick as Joe then did. I barely looked away for a second, but the next thing I knew, Joe scoffed the lot! What a naughty boy! I didn't stay to see Mom's reaction, but it can't have been good.
That grubby goblin character must be the reason why so many children are doing so many naughty deeds this year. They're listening to a little voice in their ear telling them to do bad things. No wonder Santa's Nice List is so short. I'm glad I went undercover to see what's going on. I'll do my best in the coming week to see if I can catch that fiendish fairy in the act. I'll see you all next week and if you see him, just pretend this has been a story all about Stanley the Sheep.
Yours in disguise, Toomer Elf (a.k.a. Priscilla Pennyweather)
...and so Stanley the Sheep wandered home after his wonderful adventure with the dancing rabbits. "What a happy little sheep I am!" he sighed.