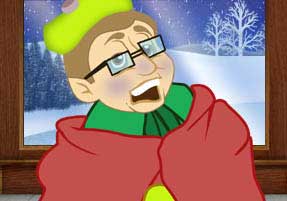 Hello folks!
It's that time again, when there's magic in the air and excitement wherever you look… No, I'm not talking about Christmas, I'm talking about Terrific Task Tuesdays!
For those of you who don't know me already, I'm Toomer – a hard-working North Polish elf. Ice to meet you!
Even if you've never met me, you'll have probably heard of my boss… Red cloak? Beard? He goes by the name of Santa Claus and he deals in gifts for children who've been good. It's my job to spot those children doing their Terrific Tasks! Or at least it was until last week, when Santa called me into his office to discuss 'The List'. I wasn't too well.
"Ho ho ho, Toomer!" Santa chuckled. "How are you?"
"I'm afraid I'm not feeling too 'elfy, boss," I croaked.
"Sore throat?" asked Santa.
"I've had tinselitis," I wheezed. "But I should be better by next Tuesday."
"Glad to hear it, Toomer," he smiled. "Because I want your Terrific Task Tuesdays to be better than ever this year. I want you to do something different. Children are often good because they've been told to behave or perhaps because they've been promised something in return. This year, I want you to get me a special list of children who have done terrific tasks without being asked."
"You mean those children who see a need for the deed and just do it?"
"Exactly," chuckled Santa. "Those children have got something unique… I like to call it the Xtra Good Factor. And, this year, I want you to look for the Xtra Good Factor in children."
So, there you have it. Toomer is back in business. Every Tuesday between now and Christmas I'll be reporting back on all those children I've noticed with the Xtra Good Factor… Santa will be getting a copy of the list I make and we all know what that means! In the meantime, make sure you're doing all you can to help others without being asked.
Oh, and my tinselitis has gone now, thanks for asking… Which means I can sing Elfis songs as loud as I can…
'til Terrific Task Tuesday Two,